Avoiding Early Operability Problems in Industrial Projects
IPA's Production Readiness Assessment Identifies Gaps in Planning
In an IPA operability study conducted a few years ago, plant operators identified technical or mechanical engineering and construction errors in approximately half the projects reviewed. These projects suffered 11 percent worse operability, on average, than projects in which post-startup engineering and construction problems were not identified.
A more recent 2014 study of upstream projects conducted by IPA determined that for projects that carry fabrication work offshore there is a 65 percent probability of an operability problem within first year. Those projects achieved production attainment of just 67 percent.
Despite proof supporting the importance of production readiness, owner companies have a difficult time figuring out which production readiness activities help projects transition from engineering and construction to operations. IPA's newest product, the Production Readiness Assessment (PRA), addresses this issue.
A PRA focuses on the planning needed to start up and operate a physical asset. Based on past research findings and its proprietary capital project databases, IPA conducts PRAs to help clients determine what they need to accomplish before startup to ensure that startup and first-year operational goals are achieved.
The PRA is designed to identify and eliminate gaps in planning for an effective transition from project execution to startup and operations. The assessment reviews production readiness activities and evaluates specific practices correlated with startup duration, startup slip, and early operational performance.
The PRA considers production readiness activities such as quality assurance reviews, hiring and training, schedule development, acceptance testing, commissioning plans, team integration, vendor support, permitting, change management, procurement, and safety planning.
IPA has identified three areas of production readiness planning and control. Each of these areas is explored in detail and referenced in the report delivered to the client.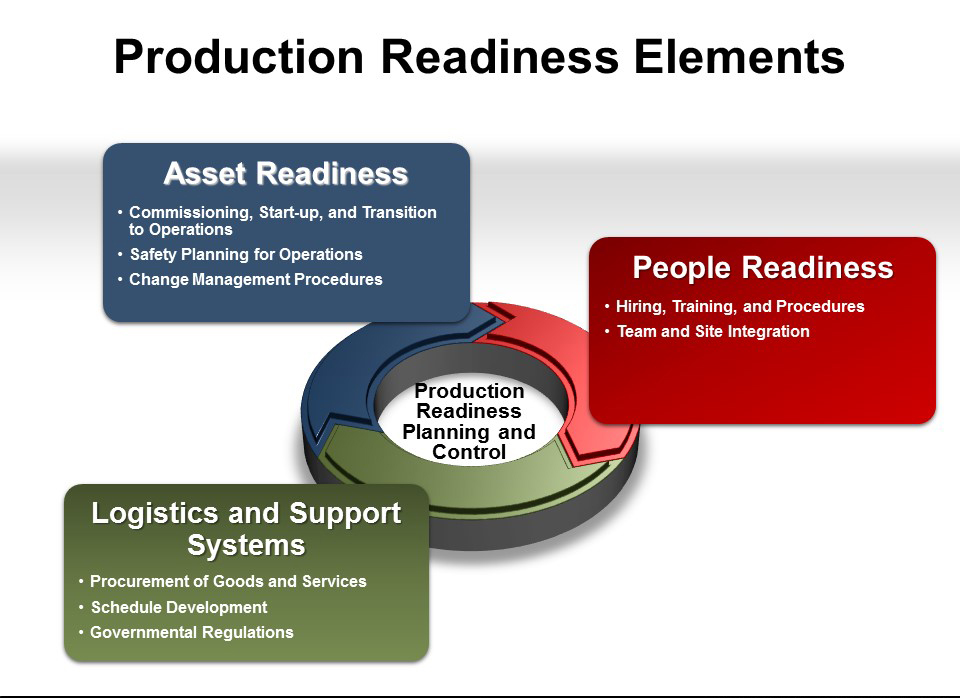 People Readiness
Peaple Readiness addresses the staffing of the operations and maintenance teams, their experience and training, and the procedures developed to guide them; it also includes team and site integration. Early completion of operating manuals and the involvement of the operations representative throughout all project phases, beginning in Front-End Loading 2 (FEL 2), are among the factors correlated with better startup outcomes.
Asset Readiness
Asset Readiness refers to planning for commissioning, startup, and transition to operations, including details such as vendor support during commissioning and change management during startup. Planning for safety once the asset is fully operational is also considered part of asset readiness. Factory acceptance testing and equipment rotation testing affect startup and early operations.
Logistics and Support Systems Readiness
Logistics and Support Systems Readiness includes preparation for regulations on utility installation and permitting; procurement planning based on required inventory levels and spare parts; decisions on support services and retention of such services; and development of schedules in conjunction with the project execution schedule.
The recommended time for a PRA is during project execution, preferably during detailed engineering or near the start of construction. The assessment follows normal IPA methodology: team interviews typically take 1 day, and reports are developed and sent to the client 3–4 weeks after the data collection/interview.
Specifically, the reports include:
Benchmarks for startup duration and early operational performance.
An assessment of specific practices correlated with startup duration, startup slip, and early operational performance.
Comparison of production readiness plans with leading industry practices.
Measurement of progress on over 30 production readiness activities and identification of gaps.