Driving Success in Innovative Technology Projects
Sustainability is a key focus for industry leading chemical companies today. Improved efficiency in production, greater reliance on renewable resources, lower carbon footprint, and adherence to circular economy tenets are all on the agenda. To achieve these goals, many companies are expanding their R&D pipeline and exploring new sustainable solutions. Examples include making new products from recycled materials, creating dual-use materials, and operating more energy-efficient or renewable-powered production processes. These projects can require significant innovation, or new technology, and scaling up from the lab to commercial production can be a highly complex undertaking.
IPA possesses more than 30 years of research into the development and execution of new technology projects to help its clients deliver better cost and schedule performing capital projects and meet their sustainable development goals.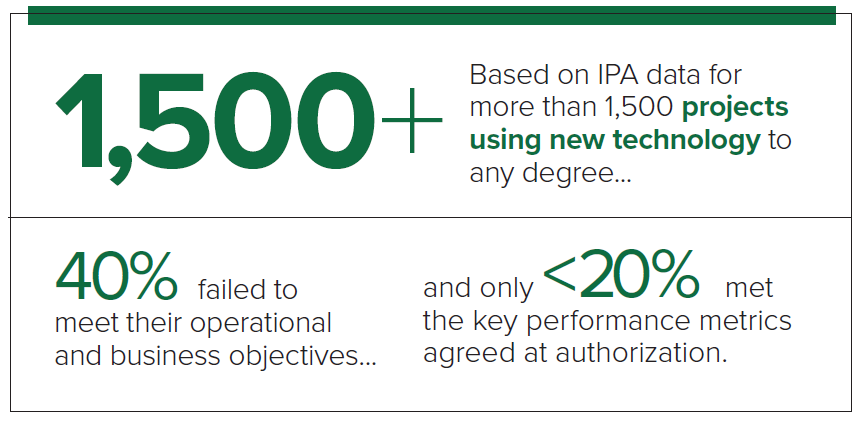 IPA's New Technology Projects Database
IPA maintains detailed capital project information from more than 1,500 new technology projects. IPA defines a new technology project as any project that includes at least one physical or chemical process step involving technology that is new in commercial use. Such projects can involve new chemistry or a first-time combination of feed and equipment on a commercial facility.
One method for determining how much innovation a project entails is by looking at the number of new process steps being introduced. IPA has observed that, as more new process steps are introduced, a project's startup duration—measured from mechanical completion to steady state operation—becomes longer and less predictable (Figure 1).
IPA also has observed that new facilities processing unrefined or refined solid feedstock or involving solid intermediates or products are more likely to experience significant operational issues relative to those processing less heterogeneous (such as liquid and/or gas) process streams. The reduction in operational performance is further augmented by the extent of new technology, again measured by the number of new steps, as shown in Figure 2. IPA analyses of solids processing plants reveal that key performance problems may result from physical and mechanical difficulties rather than from issues in process chemistry.
What IPA Can Do To Help
IPA can assist companies by identifying and qualifying risks that threaten new technology project performance. IPA research has shown that owners should develop a robust commercialization strategy for new technology projects.
IPA has identified several key practices for project organizations to integrate into their new technology commercialization strategy.
Recognize the importance and potential long-term value (in terms of environmental safety and market gains) of the innovation under development
Develop a complete Basic Technical Data package (fundamental to operational performance and overall project success)
Develop robust teams with all critical team members established early
Achieve good project definition, which is key to controlling the risks inherent to innovative projects
Set an effective change management program, since new technology projects have a higher occurrence of changes than standard technology projects
Ensure high owner involvement and early contractor participation
Risk-adverse businesses and projects teams may be squandering opportunities to deliver game-changing production advancements that could strengthen shareholder returns and benefit the environment. Recognizing early on how project groups can mitigate risks associated with new commercialization opportunities can improve the effectiveness of capital allocated to these projects.
Complete the form below to request more information on IPA's capabilities in this area.