Industrial Projects: Determining if You Are Ready for Construction
Leveraging Big Data With IPA's Enhanced Construction Readiness Assessment
Field problems in process plant projects are increasingly common. Owner companies have tried to improve field labor productivity by adopting workface planning and providing training to construction workers and their supervisors.
Although well-intended, these efforts to increase field productivity amount to doing too little too late. That's because the actual source of poor field productivity is rooted earlier in project execution, when engineering and construction work ordinarily overlap, and engineering runs late. Construction should not be blamed for lost hours when designs and fabrications that should have been finished remain undone or arrive in the field late.
IPA has been examining issues surrounding construction readiness for the last several years. Earlier research concluded that engineering and procurement slips during execution are responsible for cost and schedule overruns that amount to failed projects—cost growth of more than 25 percent from sanction and schedule slip of more than 25 percent. By these criteria, nearly half of large projects are failures. Notably, more than 80 percent of these failed projects experienced engineering problems.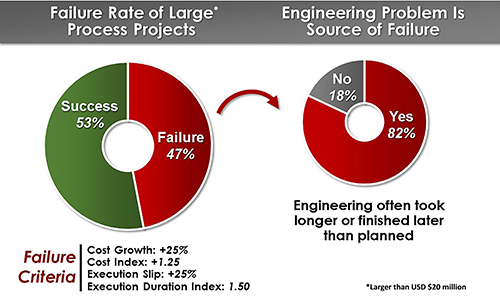 Today, new sources of engineering and construction data are available, making construction readiness evaluations more powerful. IPA began conducting Construction Readiness Assessments (CRAs), an IPA Project Evaluation System (PES®) product, for its clients in 2011. The CRA quickly identifies project gaps that should be closed prior to construction mobilization and provides recommendations that help client project teams focus on the most important project execution improvement opportunities.
Owners are recognizing the importance of being involved in detailed engineering as well as the field, and having more control over engineering, procurement, and construction workflows. Recognizing the need to help owners increase capital effectiveness in execution, IPA has enhanced its CRA, teaming with Bentley Systems, Inc., to tap into the power that big data analytics can offer in determining whether a project is ready for construction to commence. IPA is now able to supplement the engineering design, procurement, and construction schedule data used for its CRAs with virtualized work packaging and up-to-date analytics available from Bentley's ConstructSim. Increased visibility into the flow of engineering and procurement information during construction is possible thanks to more robust detailed designs aided by virtualized work packaging.
The teaming of IPA and Bentley allows owners the ability to avoid lost opportunity costs by delaying the start of plant construction until engineering is complete.