E&P Industry's Lost Decade
At the time of this writing, prices for West Texas Intermediate (WTI) crude and Brent crude were at $57.97 and $65.14 per barrel of oil, respectively—well off the lofty heights of around $100 per barrel­­­­ six months ago. As a result, exploration and production (E&P) industry executives—operators and supply chain providers—are adjusting their long-term thinking and project plans for the future by focusing on cost reductions to make asset development projects viable.
Cost optimization and capital discipline is now all of a sudden the rage—and that is a tragedy. Why? Cost reduction and capital discipline should be ingrained in the DNA of commodity industries—most certainly in the psyche of industry executives. That has not been the case for the E&P industry for the last decade. As the industry made tremendous technological progress in safety and successfully extracting hydrocarbons from the deepest oceans and most frontier areas of the world, it badly squandered an opportunity to improve capital productivity and efficiency when oil prices were high.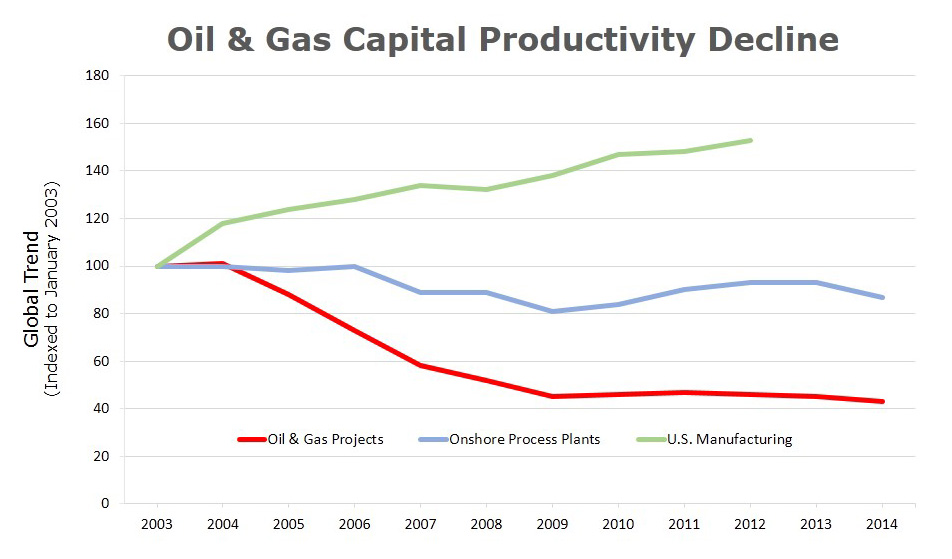 As the image shows, in the last decade, while U.S. manufacturing capital productivity increased and the downstream (refining, petrochemicals) industry fought through the hot market to maintain its capital productivity, the E&P industry reduced its productivity by 60 percent. Looked at another way, a dollar spent on an E&P capital project today buys less than half as much project as it used to. What is sad is that the E&P industry missed an opportunity to take advantage of the favorable conditions during the last decade to put in place industry wide initiatives that would have strengthened the industry to weather the current storm.
Consider how everybody is now espousing the merits of eliminating waste from the industry—excessive documentation requirements, duplicate and confusing standards, no common work breakdown structures, etc. Take the industry buzzword "standardization," for instance. Standardization initiatives take a long time to implement before they are truly effective. Instead, in the current tight cash situation, upfront CAPEX gets top priority with a much lower priority given to ideas that offer significant savings in operating and maintenance costs further down the road, even though they offer significant improvements in cost in the long run. We should have tackled this in the last decade when we had the cash. But a long-term view doesn't seem to be the industry's strong suit.
Industry as a whole can be made much stronger if we collaborate across owners, vendors, and suppliers—across the entire value chain, in other words—and agree to tackle this loss in productivity and improve efficiency. Low commodity prices have given us a chance. What remains to be seen is whether we will embrace this fight and take a long-term view, or do it the way we always have.
Let's think about ways to make the industry stronger!