Gas Plant Cost, Schedule Targeting Trails Industry Average
Development Gaps, Commercial Deal Timing May Undermine Performance
The abundance of gas production in North America has resulted in an increase in the construction of natural gas processing plants. Market forecasts predict that Industry will continue spending significant capital on gas plant projects over the next several years, given that gas is regarded as a clean, low carbon, relatively inexpensive fuel.
Compared to other capital investment opportunities, however, the processing industries have a harder time hitting cost and schedule targets for delivering natural gas-related plants. This is contrary to the expected learning curve gains that ordinarily accompany the development of industry-specific technologies and subsequent execution processes. As the accompanying chart shows, the cost of completed gas plant projects deviates from authorized amounts by about 11 percent, on average. That's higher, by around 3 percent, than the average cost deviation for other large mid- and downstream oil sector projects. Gas plant schedule predictability is substantially worse. Gas plants miss schedule targets set at authorization by nearly 30 percent, on average.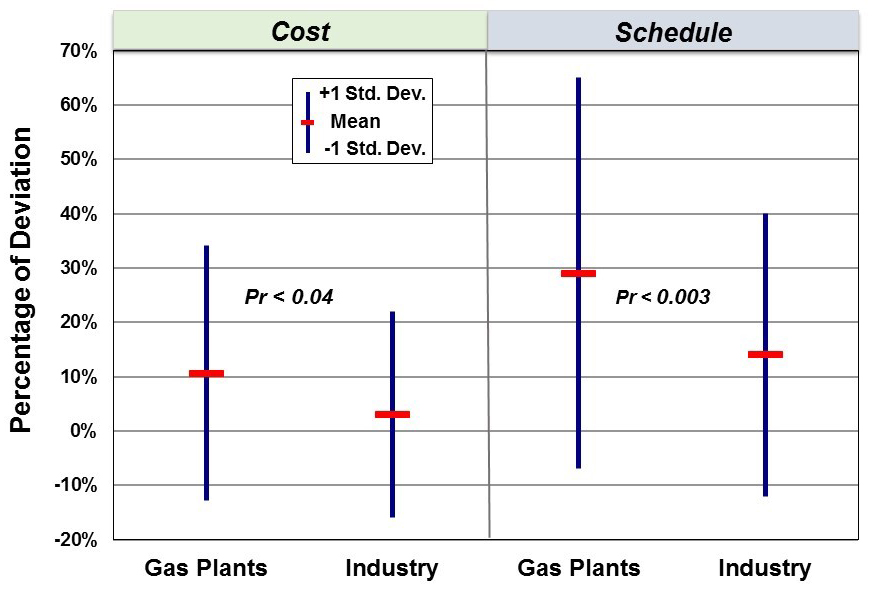 A better understanding of gas process facility portfolio planning, development processes, process standardization, and modularization approaches can improve project cost and schedule outcomes. They can also help in building a project scope that is just right for the business opportunity. Based on IPA's evaluations of gas plant projects in recent years, owner companies encounter pitfalls specific to both project and commercial development practices. In particular, the planning phase of gas processing facilities is often overlapped with upstream and commercial deal developments. When the overlap is too extensive, the required project flexibility conflicts with the project team's need to freeze the scope to progress planning. The resulting ineffciencies can have significant adverse effects on project performance. Approaches such as phased capacity build-out and techniques that allow for faster and less expensive project delivery, however, could enable delayed decision making with minimal disruption to project development.
With insights into specific project practice use, project organizations have better chances of avoiding unpredictable performance. With an extensive database of gas plant facilities and decades of experience in researching project practices, IPA is able to provide owners with data to increase their project capital effectiveness through improved planning and cost and schedule target setting. IPA is also able to help clients identify the project strategy most likely to deliver business success, such as when a modular construction approach is likely to improve schedule predictability in execution.
Through a joint-industry study expected to kick-off in the second quarter of 2016, IPA will examine industry trends with respect to gas plant projects. Owner company participants have the opportunity to benchmark their individual processing plant project performance against industry peers. As a result, owners will gain a complete understanding of the gaps affecting their project performance.
For more information, visit IPA's Hydrocarbon Processing & Transportation page.