IPA Diagnostic Tool Helps Clients Find Optimal Owner's Cost and Hour Ranges
Striking the right balance between owner and contractor hours can be a key factor in achieving owner companies' aims at improving the effectiveness of their capital projects. With a new resource planning tool from Independent Project Analysis (IPA), companies can optimize their owner team and contractor resources, and therefore improving the capital effectiveness of the project.
Leveraging insights from detailed project data collected from IPA's capital project evaluations and research done globally, IPA's Project Evaluation System (PES®) add-on evaluates owner project team members and contractor hours, controlling for project characteristics, team functions, project scope, and industry-specific factors. With these data, the tool identifies thresholds above and below which owner's costs and hours can end up significantly degrading project results.
"A project's characteristics influence the makeup of the project team, and project practices drive performance," IPA Project Research Director Michael McFadden explained. Citing IPA research documentation, "There is a resource requirement for implementing Best Practices, but a project team's ability or efficiency in performing Best Practices can be enabled or inhibited by its project organization's systems and processes." Accordingly, IPA owner's cost diagnostic tool controls for project characteristics and practices to assess relationships between best performing projects and owner's costs.
"IPA clients having already used the owner's cost analysis tool to recognize that there really is a sweet spot for owner and contractor costs and hours for a given project," McFadden said. Business and project teams can increase a project's capital effectiveness in terms of cost, schedule, and operational performance when they understand the optimal owner cost range for each project team function. "The idyllic sweet spot for owner and contractor costs and hours is actualized when Best Practices are employed," McFadden said.
Previous IPA research has established that project teams achieving Best Practical Front-End Loading (FEL) are able to move projects through execution faster than projects with poorer project definition levels. Work processes and systems that enable the efficient use of resources—estimate validation and implementation of project controls, for example—can reduce the project's total owner and contractor costs. According to recent IPA research, The Effects of Project Team Costs and Hours on Performance in the Processing Industry (2019), industry "Best Performers are better poised to leverage what appear to be fewer owner resources because their processes and systems enable more consistent applications of Best Practices, increasing predictability while lowering overall demand for resources."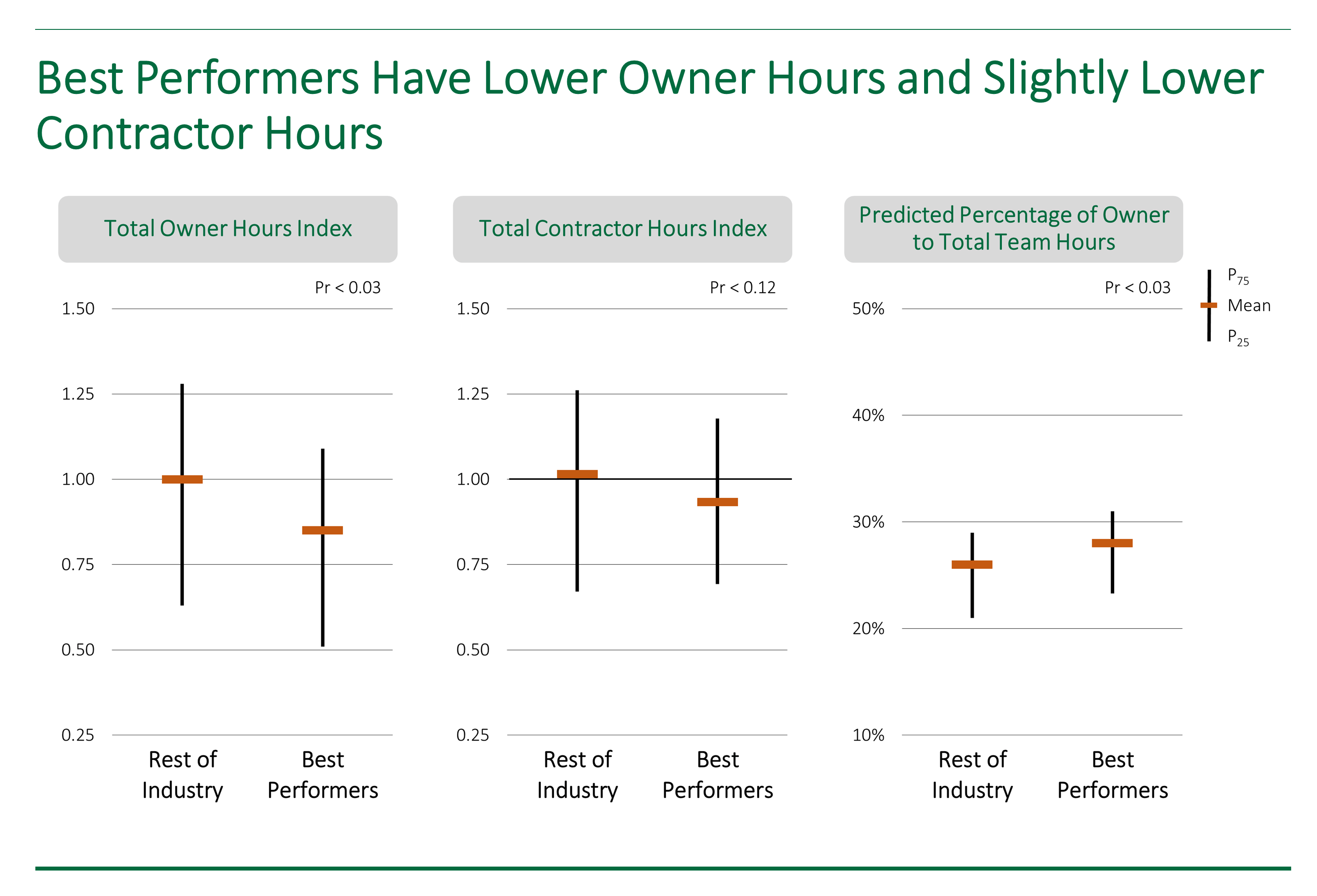 The most cost effective projects also have lower contractor costs and fewer hours than Industry. But again, "this is only accomplished when projects are set up for success with superior FEL," McFadden said. Teams struggling to attain Best Practical FEL are likely to spend more hours later on attempting to rescue the project from design and other errors that regularly result in costly late changes.
"Contractors are very good at executing construction activities when they are laid out well," McFadden said. "When contractors have to reach back to owner personnel with questions about work packages, that is when contractor and owner costs add up in the field." The cost analysis tool makes clear to clients the existence of multiple failure modes in which projects can either spend too many or too few hours in the front end, he added. "The cost diagnostic tool provides companies with optimal owner and contractor costs and hours ranges."