IPA Singapore Partners with UN Women for Project Inspire
Finalists: Project Inspire finalists pose with competition judges, Singapore Committee for UN Women President Trina Liang-Lin (second from right) and Co-Founding Partner MasterCard representative Georgette Tan (far right). Photo Credit: Singapore Committee for UN Women
---
In IPA's world the very mention of the word "project" conjures up images of offshore platforms, refineries, chemical plants with long runs of pipe, heavy equipment, and hard hats. There is great complexity involved in developing and evaluating these projects. Project Inspire, sponsored by the Singapore Committee for UN Women, is not a typical IPA project, but it is certainly no less complex.
Created in July 2010 by the United Nations General Assembly, the UN Entity for Gender Equality and the Empowerment of Women—also known as UN Women—works to eliminate discrimination against women and girls, support empowerment of women, and "achieve equality between women and men as partners and beneficiaries of development, human rights, humanitarian action, and peace and security."
Project Inspire was launched in 2011 and is co-organized by the Singapore Committee of UN Women and MasterCard. It is a social entrepreneurship competition offering entrepreneurs aged 18 to 35 a platform to pitch an idea for a project that can enable and empower women economically throughout Asia, the Pacific, the Middle East, and Africa. Simply put, participants get the opportunity to present their social ventures for a chance to win grants totaling US$35,000 to implement them.
IPA 's Singapore office became an active participant in UN Women's Project Inspire initiative in 2015. IPA had a role in reviewing more than 400 Project Inspire 2015 entries and helping UN Women select the semi-finalists.
IPA's knowledge of the pillars of successful projects guided the evaluation. Although social ventures are different from capital projects, they share common basic planning elements and drivers of success. IPA drew from elements from its capital Project Evaluation System (PES®) and applied them when evaluating Project Inspire submissions. For example, we assessed (among others) the clarity of project objectives, team formation, and the extent of implementation planning. This helped IPA identify social venture projects that show great promise in addressing women's empowerment challenges.
Our understanding of what drives successful projects, combined with UN Women's deep understanding of women's empowerment issues, enhanced the selection process. It helped identify social venture projects with strong potential for advancing the committee's mission.
We saw many fantastic ideas and were overwhelmed by the thoughtfulness and dedication of individuals to improving women's livelihoods. The semi-finalists, in particular, not only had great ideas but also provided strong execution plans demonstrating their ability to turn their ideas into successful ventures.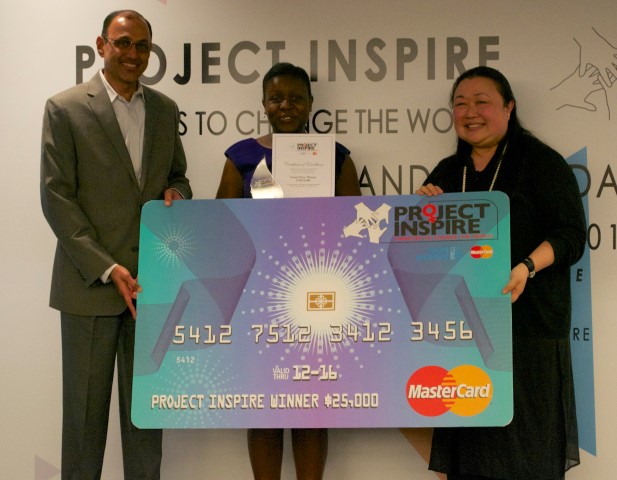 Best Pitch: Women In Technology Uganda (WITU) Founder Barbara Birungi (center) earned the Project Inspire 2015 top prize for her pitch to create WITU Hub, a space where women from poor communities in Kampala, the capital of Uganda, can receive training in the areas of technology and entrepreneurship. Photo Credit: Singapore Committee for UN Women
The Grand Final of the 2015 competition took place November 13, 2015. The winner of the grand prize of US$25,000 was Women in Technology Uganda (WITU) with their WITU HUB Project. The project's mission is "to support local women's capacity building and skills development for technology and entrepreneurship by offering a collaborative environment for training, mentorship, and knowledge sharing."
The runner-up and winner of the US$10,000 grant was Emerge Lanka Foundation with their Beads2Business Project. The project "supports Sri Lankan girls who have been removed from their homes due to abuse … by providing them financial literacy and business development curriculum through jewelry design and creation."
In addition, Dare Women's Foundation in Tanzania received the People's Choice Award for their Tanzanian Women: A Source of their Own Empowerment Project. They raised the greatest amount of funds (over US$5,000) during the crowdfunding campaign initiated from the semi-final stage.
IPA supports the mission of the Singapore Committee of UN Women to improve the livelihood of girls and women. Project Inspire 2015 was an opportunity for IPA to work closely with UN Women and have an active role in promoting and contributing to its cause. Our recent collaboration with Project Inspire 2015 was a great start to this new partnership. The IPA Singapore office looks forward to contributing to this and other future community outreach initiatives.
"Our work with IPA Singapore aimed to increase our efficiency at screening submitted projects' quality for Project Inspire, a global social entrepreneurship competition run by Singapore Committee for UN Women and MasterCard. [The IPA team] had come and delivered. We were impressed by the team's expertise in project analysis throughout the process, which has greatly increased our competence in selecting quality projects. Their involvement will not only impact this year's program but also the years after."
— Singapore Committee for UN Women statement on IPA's role in supporting Project Inspire
---
Originally published in the December 2015 IPA Newsletter (Volume 7,Issue 4)