Introduction
Over the last 20 years, the percentage of consumer products capital projects hitting their cost and schedule targets for delivery decreased to just 20 percent for 2010 to mid-2020 from 32 percent in the previous decade. In other words, less than a quarter of consumer products capital projects achieve actual cost and schedule outcomes within 10 percent of the targets set at authorization. Much of the time, project execution difficulties are responsible for the disappointing performance of these projects. IPA has found that many of these execution issues stem from the fact that the projects failed to employ key practices that are statistically linked with more predictable outcomes. The following case study illustrates this point and looks at how consumer products owner companies can improve the capital performance of their projects.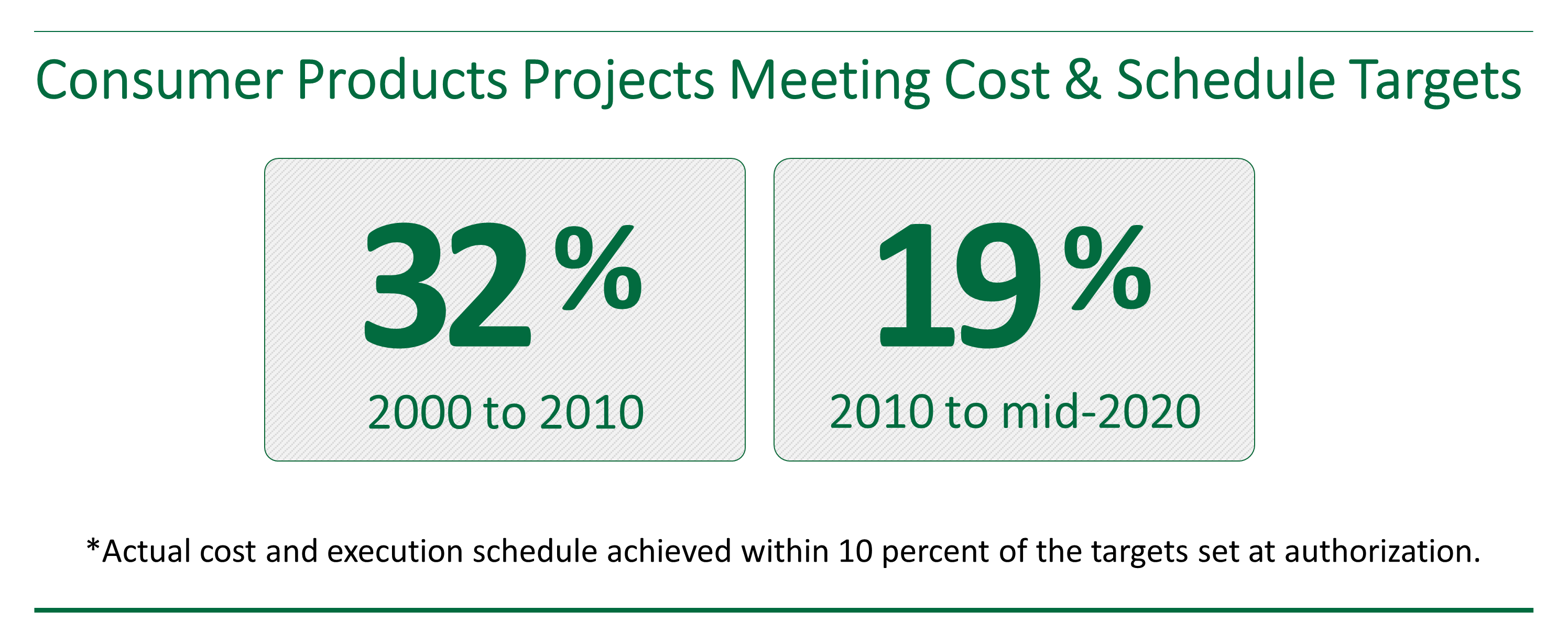 An Opportunity for Improvement

A member of a consumer products company's senior management staff asked IPA to assess a $90 million schedule-driven modernization project it had completed a few months earlier. The project slipped its planned execution schedule by 3 months and overran its authorization commitment by $25 million. The company is planning similar initiatives in several regions to capture market share and would like to avoid similar project outcomes. Outlined below are several issues IPA found to have contributed to the disappointing cost and schedule outcomes. It is important to note that these issues are common contributors to project failure across industrial sectors, as identified through extensive IPA research.
Key Findings
Business-Team Misalignment on the Ojectives
The lack of business-team alignment on the scope and on cost/schedule trade-offs caused confusion among the team members. The schedule slipped one month because scope that was deleted to cut cost was subsequently re-inserted because it was essential to meet production requirements.
Low Staffing During Definition
Business did not fully staff the team during project definition, resulting in project scope gaps that ultimately led to the unplanned $6 million warehouse expansion during construction.
Starting Execution With Definition Gaps to Accelerate Schedule
The contractor prepared the cost estimate based on preliminary equipment quotes and assumptions about labor availability. The contractor's estimate undershot the eventual cost by $10 million. Also, the project team was directed to proceed to detailed engineering with a cursory project layout and design review to accelerate the project. Necessary rework to fix errors during detailed engineering increased cost and delayed the project.
Engineering Slip Due to Aggressive Schedule
The engineering contractor could not meet the schedule because the target was too aggressive. As a result, the issued-for-construction drawings were one month late.
Idle Labor Followed by Double Shifts to Recover Lost Time
Construction labor was idle due to insufficient drawings and equipment delivery delays, so double shifts were used to recover lost time. This increased the cost by $3 million. Also, the slow transition from construction to commissioning (due to delays, electrical rework, and late changes) extended startup by four weeks.
Conclusions
The project did not meet its business objectives because it did not have a solid foundation to meet the aggressive project targets. Setting up the project team organization, reaching alignment on the objectives and trade-offs, and using a disciplined work process are key success factors for capital projects. Without them, project teams do not have the clear direction and resources needed to complete the project definition required for successful execution.
IPA's Recommendations
IPA provided specific recommendations on setting the future projects up for success, including practices related to framing, scope development, and team effectiveness. IPA also recommended that the company follow Best Practices for managing project complexity, reducing business risk, and achieving shorter schedules without incurring unnecessary costs. This advice was based on research from thousands of schedule-driven projects in different industry sectors.
Delivery And Future Work
Follow-up consulting with senior management focused on how project systems can develop the flexibility to move quickly to execution (i.e., speed to market) to support strategic projects and how their non-revenue-generating projects can be completed at a lower cost than their competitors. The specific recommendations addressed:
How the business role, including sponsorship and governance, can have a major effect on project competitiveness
How to establish dialog between business and the project stakeholders to ensure the right scope is developed to achieve the business objectives
How to develop a contracting strategy and execution plan that are aligned with the company's capabilities and the project objectives
Subsequent collaborative work between IPA and the company included program consulting, staffing analysis, training, and evaluations of projects in the early project development stages for the company's two major plant modernization programs.
Complete the form below for more information on IPA's work with capital projects in the consumer products industry.
*Case study written by Felix Parodi, IPA Senior Consultant