The Problem:
A mid-size global specialties company came to IPA with a common problem: its projects were unreliable. The company found that its promised new capacity was being delivered later than expected. And capital costs were both overrunning and underrunning—leaving funds unspent one year and oversubscribed in another.
For this company, with its focus on renewables, predictability is key, and they could not afford to keep getting their capital investments wrong. This science-driven company prides itself on being agile enough to deliver innovative solutions but also recognized the need for business rigor. Despite its efforts, however, the company was authorizing projects that had clear signs of being disaster projects.
The First Step: Assessing the Current State
Before moving forward with a solution to the company's issues, IPA proposed taking a look at the company's current state. This step allows us to confirm the diagnosis of what is causing the problem so that a plan to address it can be developed.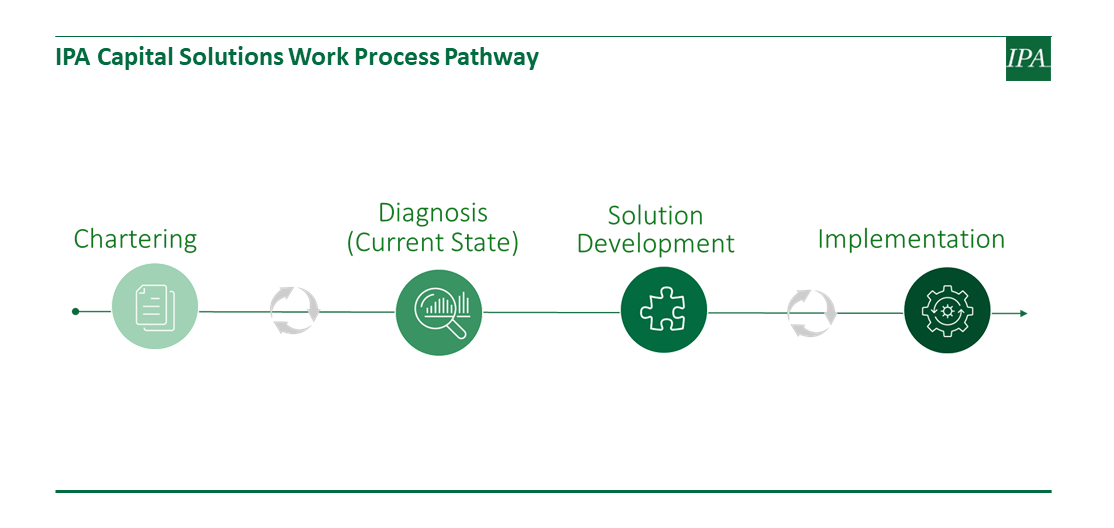 In the diagnosis step, IPA gathers the information needed to assess a company's current state. We look at the company's project results, interview key stakeholders, and make a case for change.
We found that the company was operating as separate business areas with no common resources. Because the business areas were independent, they were each trying to build their own capabilities instead of sharing across the company. Recognizing the need for structure project delivery, the company imposed a stage-gated project approach. However, this new governance structure was not working as planned—for several reasons.
First, this new approach did not have large-scale buy-in. A change of this magnitude requires support from key stakeholders such as business sponsors and the investment-decision makers themselves, who—at this company—had not fully committed to stage-gating as their mechanism for capital governance.
Second, the company was missing the project competencies to make the process work effectively. The process called for the right work to be done in each stage, but the individual business organizations did not have projects-capable staff to manage that work.
The Next Step:
To address the underlying issues and find a solution, the company top management needed to answer three basic questions on its commitment to improvement: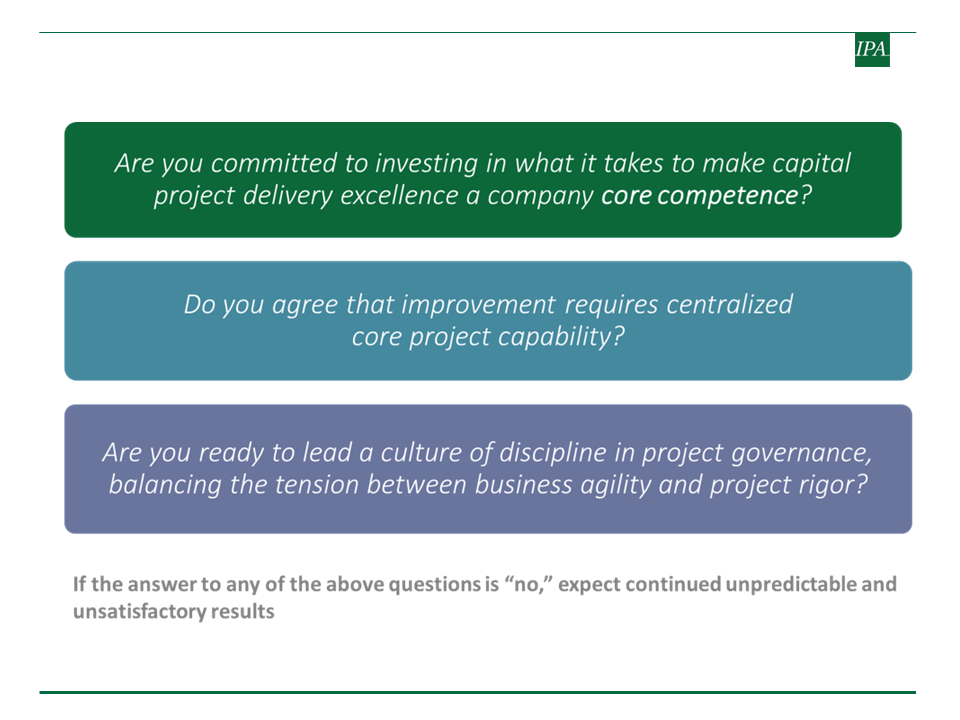 Answering yes to all three questions commits top management to the necessary enablers such as staffing up and centralizing owner capability, holding businesses accountable for using the project governance process, and enforcing compliance. Answering no to any of the three means the company could expect to continue to have unpredictable and unsatisfactory results, with only slow improvement at best.
With targeted areas of improvement, the company is now ready to take the next steps of Solution Development and Implementation. These are covered in part two of this case study.