Early Estimating Metrics for Pharmaceutical Capital Projects
Life sciences companies are spending more capital on the construction and expansion of pharmaceutical facilities to boost their drug manufacturing capacity and strengthen regional supply chains. Given the competitiveness of the pharmaceuticals marketplace, life sciences industry owner companies must deliver cost- and schedule-advantaged capital projects. To deliver capital competitive pharmaceutical projects, owner project teams must access current and reliable early estimating metrics during Front-End Loading (FEL).
IPA's pharmaceuticals and biotechnology sectors capital projects database includes project development and execution data from over 800 projects located in North America, Europe, and Asia. More than 600 projects in the database are completed. IPA was asked by a group of life sciences companies to leverage these data to develop an entire suite of early estimating metrics for the delivery of pharmaceutical facilities projects. Upon completion, the metrics will empower project teams responsible for developing conceptual and feasibility estimates and validating detailed estimates. Another important industry deliverable will be the establishment of a standard Code of Accounts (CoA), allowing collection of completed project data in the same format and the eventual expansion of the metrics datasets.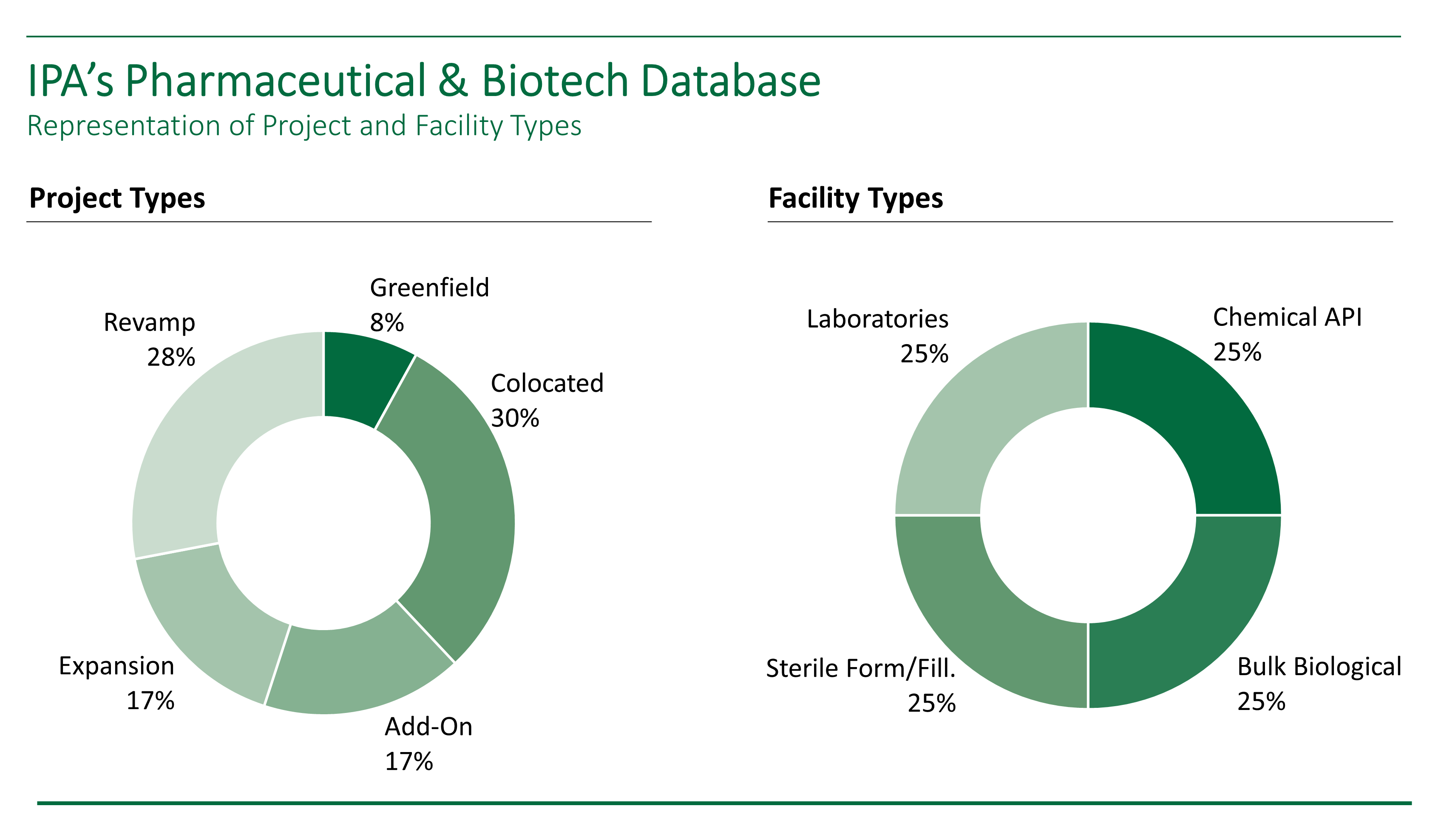 What Types of Life Science Facilities Are Included in the Study?
For the first of a planned series of pharmaceutical sector cost studies, IPA is collecting data for four kinds of pharmaceutical facilities:
Bulk biological (large molecule) facilities

Will split by single use vs. traditional stainless steel equipment when data allow

Sterile form/fill facilities
Laboratories
Chemical active pharmaceutical ingredient (API) facilities

Will split by high-potency API vs non-high potency API facilities based on data availability
To ensure creation of a complete set of early estimating metrics, IPA is requesting data on all project types, including greenfield (process unit costs only), co-located, and brownfield projects (i.e., add-on, expansion, and revamp projects). The projects need to be authorized within the past 5 years. The minimum project size for this data collection effort is US$10 million. The end product will be a suite of cost and schedule metrics, with summary statistics provided for each metric.
What Cost Metrics Will Be Developed?
Shown below are some examples of the early estimating metrics IPA is producing for participating companies:
Cost to Cost Metrics

Total Installed Costs (TIC) $ / Equipment $
Office Costs $ / TIC $
Process Automation $ / TIC $
Building Automation $ / TIC $
Process Installation (Labor & Materials) $ / Equipment $
Commissioning & Qualification (C&Q) $ / Equipment $
Cost to Scope Metrics

TIC $ / Square Foot
Exterior Enclosure $ / Square Foot
Scope to scope metrics
Process Area Square Foot / Gross Square Foot
Mechanical Area Square Foot / Gross Square Foot
Controlled Unclassified Square Foot / Gross Square Foot
Process Area + Process Support + Process
Related Square Foot / Gross Square Foot
Schedule Metrics

Design Duration Through OQ Duration / TIC
Phase Duration / Square Foot
IPA invites all owner companies in the life sciences sector to participate in this early estimating metrics initiative. The group is open to including project data from both authorization grade estimates and completed projects.
Please complete the form below to request more information about these early estimating metrics and CoA for pharmaceutical facilities.