Improving Sustainability Practices in Capital Projects
Lessons Learned From Two Decades of Safety Improvement
Sustainability has become a major talking point in recent years in Industry, the halls of government, and even at the kitchen table. How human actions affect the global climate and quality of life for future generations has attained new levels of prominence in the global discussion of what to prioritize as a society going forward. Chemicals, refining, agribusiness, and other downstream sectors are significant contributors to global greenhouse gas emissions and remain a particularly difficult industry to decarbonize due to the variety of processes, priorities, and practices of each sector. As part of the ongoing effort to improve sustainability practices in Industry, IPA is researching how companies are rolling out sustainability programs and is identifying gaps and Best Practices to improve sustainability outcomes.
The State of Sustainability in Projects Today
IPA has collected extensive information on company sustainability practices and has established a baseline of where Industry is with regard to corporate sustainability structures, project-level practices, common sustainability metrics and key performance indicators, and communication structures. This preliminary research found that company approaches to sustainability are mixed across Industry, with companies at different stages of development in their sustainability strategy rollouts. Most companies have announced climate goals, usually with a 2030 target and an end target of being carbon‑neutral by 2050, and have assigned dedicated staff on the corporate level to define and manage company sustainability strategies. Additionally, most companies IPA has surveyed increased research and development spending to improve sustainability innovation of their product lines, with many companies expecting their sustainability strategies to yield significant results in the upcoming years.
However, IPA found that most companies have yet to effectively translate sustainability from their corporate offices down to the site and project levels. As shown in the graphic below, less than 10 percent of companies surveyed have created project-specific roles dedicated to ensuring sustainability is considered in project planning and execution. Sustainability, in the current industry scenario, is not universally discussed in project business planning, the stage IPA research indicates has the greatest effect on project shaping and execution outcomes. Similarly, sustainability project definition practices—such as inclusion in scoping activities, vendor sustainability pre-qualifications, and sustainability expectation alignment with engineering contractors for project design and detailed engineering—are not standardized across Industry at this point.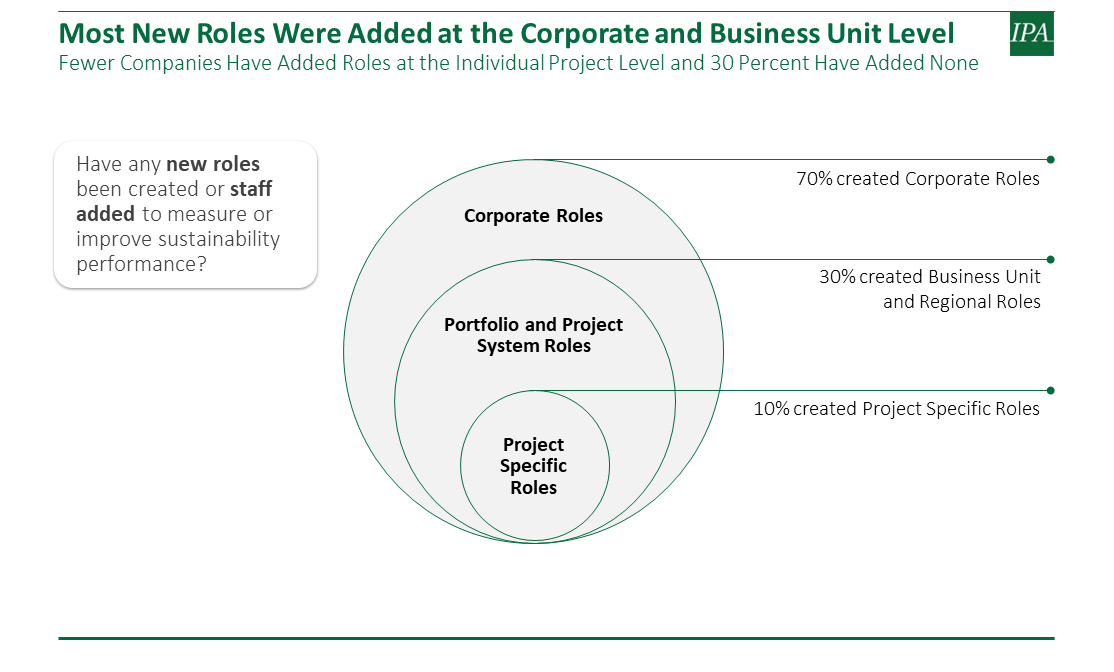 Outside of including sustainability in project-planning discussions, Industry has yet to standardize how sustainability progress is tracked and shared. Less than a quarter of companies surveyed have developed project-level sustainability Key Performance Indicators and targets; additionally, sustainability metrics are not frequently updated or communicated across all parts of the company. Similar to safety and cost metrics, sustainability metrics are critical in understanding how well a strategy is working and in identifying gaps that may be preventing best performance, while also ensuring ownership of progress and making that progress more visible to the company as a whole.
To summarize, Industry is at an important junction on the path to improving environmental stewardship where decisions made now will have long-lasting consequences for how company divisions and project teams approach sustainability going forward. Developing a robust sustainability strategy that translates corporate goals down to the project-level is critical for improving project sustainability performance, which, in turn, will help companies meet their corporate sustainability goals.
Lessons for Sustainability From Project Safety Improvements
A good analogy for the current industry sustainability scenario is project safety performance. Safety performance and environmental stewardship are both license-to-operate issues: companies risk their reputation with stakeholders and customers if they choose not to do anything about an issue that society collectively considers to be a cause for concern. Prior to the 1990s, project safety performance, relative to today, was poor. Starting in the 1990s, rising concern about project safety practices led industry leaders and lawmakers alike to begin thoroughly assessing company project safety performances and passing laws and corporate policies to improve outcomes. Through resource allocation, the standardization of practices, and constant vigilance, companies were able to radically improve their project safety performances to the point where they are at today. As shown below, the recordable safety incident rate of IPA's core member clients decreased by 70 percent over the last 15 years.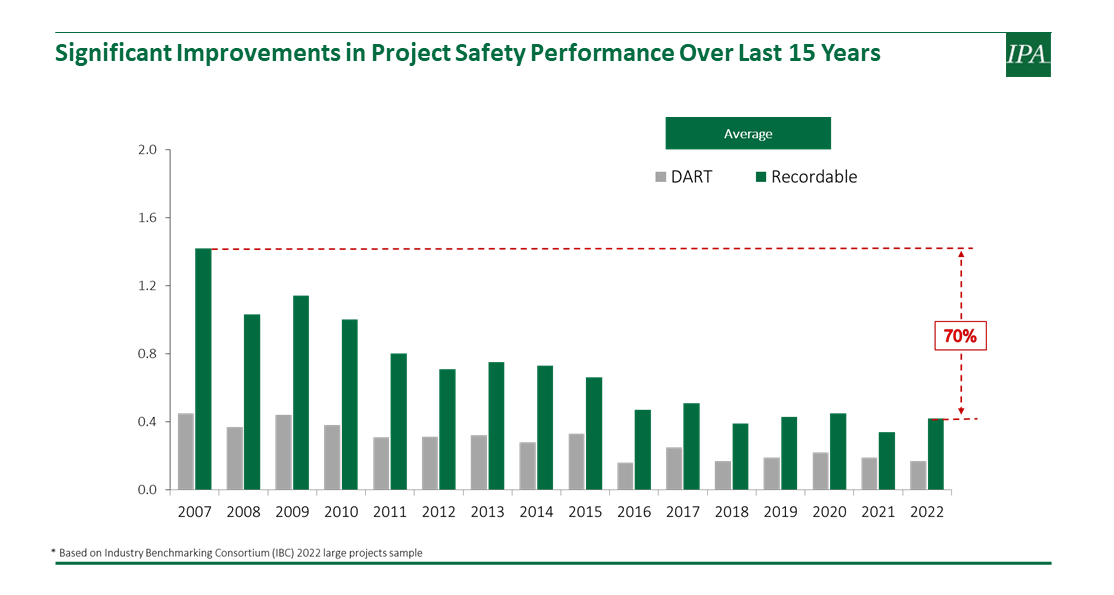 IPA helped companies improve safety programs during this key period by developing safety metrics that allowed companies to better track safety program rollout and fill gaps. In the table below, we identify four pillars that were essential to improving safety programs in the 1990s and early 2000s, and draw comparisons to sustainability rollout, with the belief that companies can leverage lessons learned from safety improvement to influence sustainability improvement. Safety improvement began with the allocation of senior staff to study the problem, develop safety programs, and manage the execution of those programs. Senior staff began tracking safety metrics more closely and those metrics began affecting company decisions in addressing safety issues. Tracking metrics allowed companies to identify gaps in safety programs and allocate resources to fill those gaps. Finally, companies brought construction contractors into the conversation, and safety performance became an integral part of the bidding process, where contractors with poor safety records were far less likely to be hired.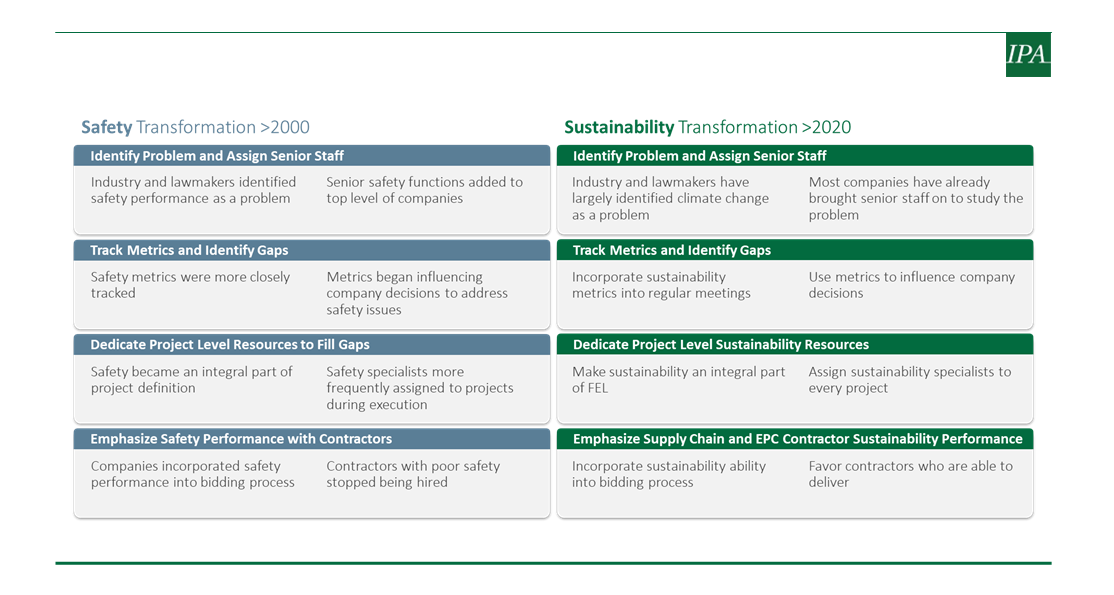 The Next Steps in Sustainability Improvement
Sustainability improvement can be approached with the same method in mind. Industry is currently at the point where environmental stewardship has become an important issue frequently discussed across all levels of society. Most companies made the important first steps of assigning senior staff to define sustainability strategies and manage the implementation of those strategies. The next step will be the standardization and development of metrics across Industry to track the efficacy of sustainability programs and use those metrics to influence company decisions; IPA is working with numerous companies to define standardized sustainability metrics that can be used to benchmark their project-level sustainability performance against Industry. The closer tracking of sustainability progress metrics will better identify gaps in sustainability programs, allowing companies to allocate personnel and resources to fill those gaps. Finally, since project planning and scoping activities have such a profound effect on project sustainability outcomes, it will be important that companies bring vendors and engineering contractors into the discussion and begin emphasizing sustainability in the bidding process.
We, as an Industry, face a monumental challenge in the upcoming years as we pivot from traditional practices to ones with better sustainability outcomes. As with safety performance, sustainability is a process that will require constant vigilance on the behalf of companies; however, Industry already managed to implement safety strategies that dramatically improved safety performance in the past, and Industry should use those lessons learned to influence sustainability strategies going forward. IPA has years of research on improving safety performance and is leveraging this information as we research and develop sustainability metrics and Best Practices to help companies improve their sustainability strategy rollouts. Through cooperation, IPA is optimistic that these services will be invaluable in helping companies achieve their sustainability goals.
For More Information
This study is part of IPA's larger sustainability research efforts. To learn more about how IPA can help your company make better sustainability‑related decisions for project systems and individual projects, or to join the IPA Carbon Working Group (CWG), please use the form below.
IPA's Natalia Zwart and Adi Akheramka contributed to this article.