Supporting Continuous Improvement for Power Projects
Power companies often struggle to deliver power projects close to their anticipated cost and schedule targets. This poor capital performance can be attributed to several causes. For example, IPA has found that power companies are more likely to develop projects without a formal project development process in place. Power companies also tend to authorize project funds before roles and responsibilities and risk mitigation plans are defined. Incomplete basic designs and summary-level status updates detract from performance during project execution.
IPA has a long history of helping companies in many industry sectors improve their capital project systems and individual project outcomes. Central to IPA's work is its database of more than 18,000 capital projects, which includes more than 500 power projects. IPA can measure and evaluate the performance of power projects relative to a power sector industry average and identify links between project practices and outcomes.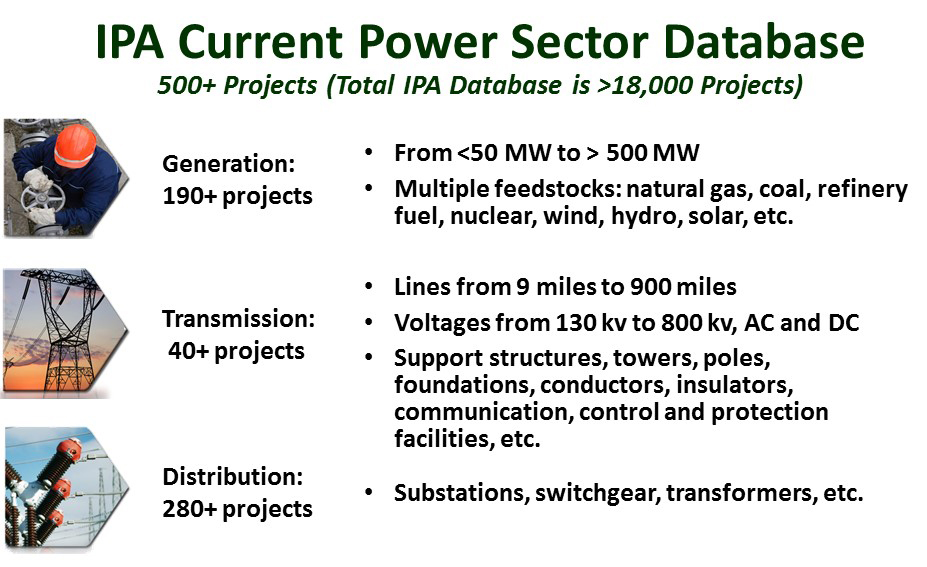 In the case of a large U.S.-based power company, for instance, IPA deployed a project benchmarking study to determine there were significant differences in the quality and nature of the practices the company used in planning, developing, and executing its capital projects.
After the benchmarking study, the company asked IPA to conduct follow-up activities, including work process reviews, organizational assessments, and front-end planning workshops. The company and IPA's shared goal was to assist with the development and institutionalization of a more uniform system of project planning, development, and execution.
Today, the company's project delivery system makes use of a gated work process with clear deliverable requirements for approval. In addition, core project team assignments are made during the early phases of the company's project development work process. Project control procedures are now standardized and, importantly, late design changes are subjected to rigorous review, if they are approved at all. The company credited the late design change gate review process for lowering one project cost estimate by more than $60 million.
Other IPA power company clients have credited IPA with reducing their project risk profiles. According to one senior power company official, IPA showed the company how a properly designed project system forces project teams to reconfirm and refine the assumptions used to develop a project's scope, schedule, budget, and operations plan at each stage of the project development process. "If used correctly, it affords the team the opportunity to modify its plans to satisfy the project constraints prior to the construction phase where such changes can be expensive and may jeopardize the project schedule," the official said. Another client representative said IPA's power projects database and quantitative analysis capabilities linking project inputs with safety, cost, schedule, and operability outcomes were central to steering their company away from investing in a capital project that IPA deemed as being set up for failure.
IPA's capital project expertise can also enhance the role of business involvement and strengthen project organizational effectiveness. For example, IPA helped a client develop a Project Management Office (PMO) to support its multiple project sites. Today, the PMO enables the company to identify, quantify, and implement system improvement opportunities, thereby promoting continuous quality improvement efforts going forward.
IPA can also support project teams by conducting project evaluations. These evaluations are intended to identify project risks, practices, and organizational gaps that may be detrimental to project success. For example, the IPA metrics may identify a particular function that project teams frequently lack, and the lack of this functional involvement may be statistically linked to major late design changes and increased costs and longer schedules.
For more information about how IPA can improve the performance of power sector projects, please visit IPA's Energy (Oil & Gas, Power, & Carbon Efficiency page.