The Problem
An IPA client was concerned about its recent large projects going off the rails. One project—an extreme example of this trend—overran its authorized budget by more than 75 percent on a facility that only operates at 30 percent of its nameplate capacity. Looking more carefully at its projects, the client discovered that most projects met their budgets and schedules but that their very large projects were often considered failures.
The company's objective in engaging IPA was to improve the cost and schedule performance of its projects with a focus on scaling the work process from small to large projects.
What IPA Did
Our work with this client began with a review of the client's engineering guidelines (project manual) to assess how well they aligned with Best Practices. The goal was to highlight opportunities to enhance the guidelines and to develop a scalable work process that ensures maturity of engineering and quality of cost and schedule estimates in a way that makes sense across their small to very large and complex projects.
The existing project system includes documents and standards for engineering from project definition through execution. The current process is "one size fits all" with three definition phases. It mostly focuses on technical elements, with some standard operating procedures and a deliverables checklist for the end of each phase. While generally aligned with Industry standard stage-gating, FEL 1 (the business planning phase) is not described in the project manual. And, although FEL 3 (preauthorization definition and planning) requirements are mostly aligned with Best Practices, the work process has some major gaps in FEL 2 (scoping and conceptual design) around scope closure and preliminary project execution planning in support of early cost and schedule estimates.
IPA offered recommendations to shore up the work process with key recommendations to strengthen FEL 2 and to better link engineering deliverables with business case development to generate a holistic picture at each decision gate.
Moreover, in assessing the client's work process, we uncovered major organizational constraints that would inhibit the company's ability to gain advantages from a strong process. These constraints manifest in lack of clear roles and accountabilities between the business unit and engineering function in the early stages of project development and weak project manager authority through the project lifecycle.
The company assigns a project lead from the business unit who acts as liaison to the business, thereby limiting direct project manager interaction with the business and the project manager's oversight of business-based functional input on the project. The weak project manager position hinders the ability to drive the use of the engineering work process, which is often bypassed by the business because of schedule pressure. Schedule pressure leads to poor definition and incomplete market data.
The organizational constraints—and the resulting weaknesses in project definition and planning—exist across all project sizes. These suboptimal drivers are accommodated and managed for smaller and less complex projects, but lead to unpredictable cost and late schedule for the larger and more complex projects.
We recommended that the client implement a scalable project system because it was their larger projects that were problematic so they needed some way to separate them out and treat them differently. The key was a fit-for-purpose approach based on the level of project risk. Project team roles and accountabilities, activities, deliverables, and assurance requirements all would be tailored depending on this risk.
An overview of the classification process, including some of the elements of classification, is shown in the figure below.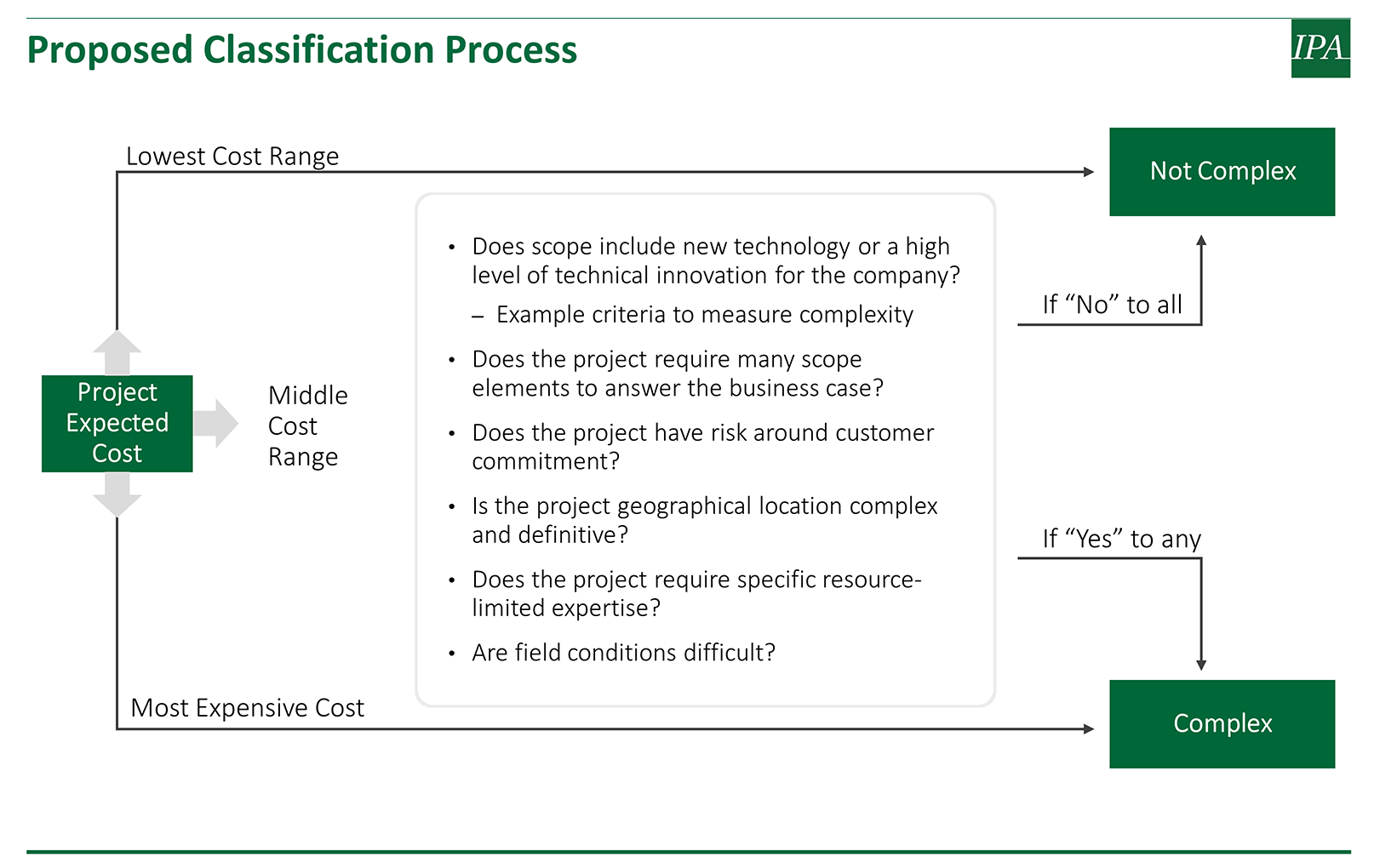 IPA led a series of workshops with the client to develop action plans and next steps to implement the recommendations. For example, based on IPA's recommendation to strengthen the project management organization to ensure compliance with (and to gain the advantages of) the strengthened process, IPA worked with the company to define leadership roles and responsibilities through the project lifecycle.