Resource Center
IPA's New Project Data Portal (PDP) Makes Capital Project Data Provision Process Easier for Client Companies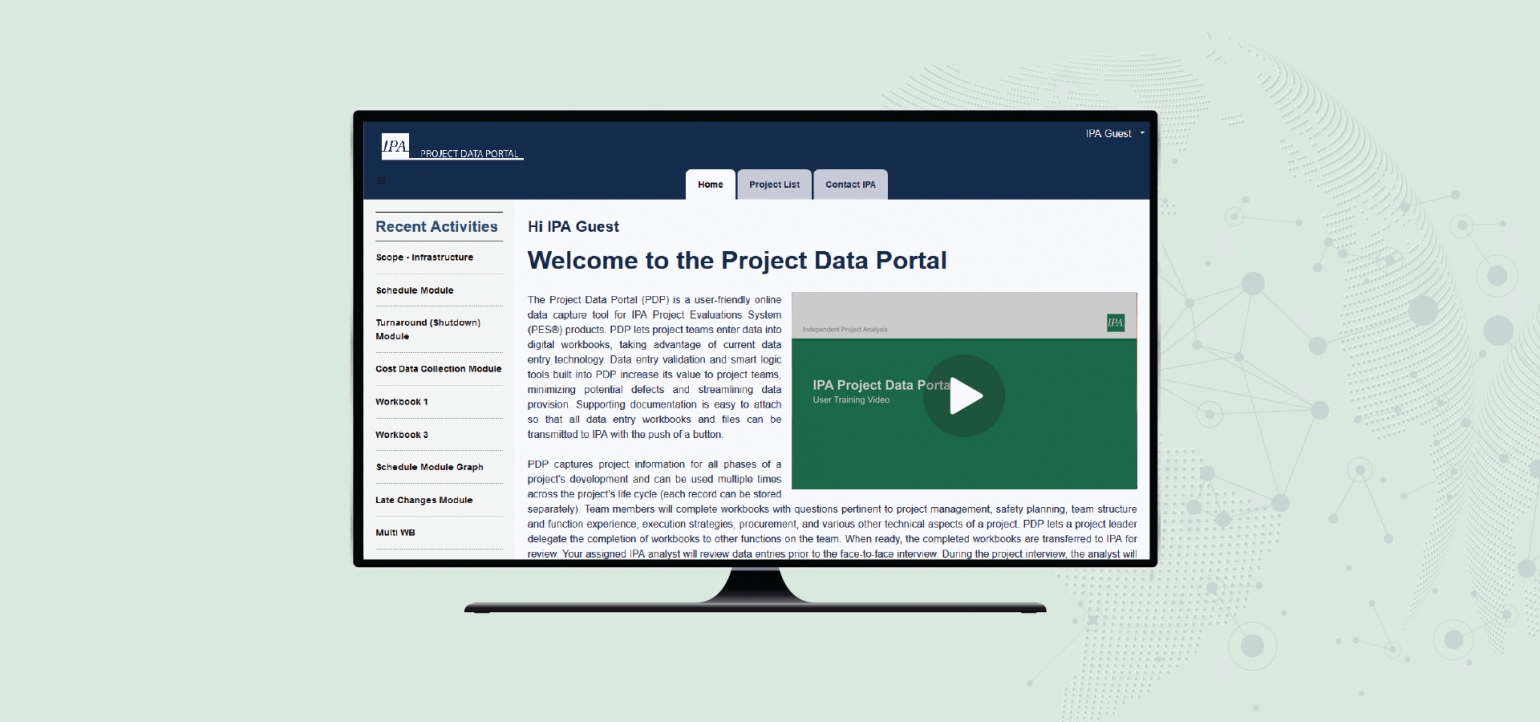 PDP is a centralized web-based application that enables project teams to securely provide IPA with project data
Project leaders can easily delegate data provision responsibilities to function leads
IPA analysts continue to review all data entries prior to face-to-face interviews
Ashburn, Virginia (March 16, 2020) — Independent Project Analysis (IPA), Inc., is pleased to announce the release of its Project Data Portal (PDP), a user-friendly online data capture tool now ready for use with IPA's suite of Project Evaluation System (PES®[1]) products.[2] Beginning in April 2020, project teams will be able to input project cost, schedule, and other important information into a centralized web‑based application with the aid of entry validation and smart logic capabilities, minimizing potential measurement defects and streamlining data provision. Supporting project files are easily uploaded into the portal, allowing teams to submit all project information to IPA en masse.
PDP is a time-saving data collection capability for IPA's existing and future clients. PDP captures project information for all phases of a project's development and can be used multiple times across the project's life cycle. The portal provides data fields pertinent to key project performance assessment areas—safety planning, project management, team structure and function experience, execution strategies, procurement, and other technical project assessment aspects. Project leaders are able to easily delegate the completion of data forms to various project functions. PDP also provides clients with the capability to automatically push project data directly to the portal via application program interface (API).
Pam Wertz, IPA Chief Development Officer, said while project teams and project system managers appreciate insights from project evaluations, they have always found the process of providing project data to be onerous. "IPA's Project Data Portal reduces the effort needed from client project teams in providing project-specific data," Wertz said.
A key benefit is the way in which the portal assists teams in the data provision process. The built-in smart logic and validation criteria ensure only applicable questions are displayed and minimize data errors. The included help feature provides definitions and coaching in getting answers right. "The Project Data Portal truly takes the guesswork out of the data gathering phase to make the process much easier for our clients to complete," added Wertz.
While project teams are in charge of completing digital PDP forms and deciding when data are transferred to IPA for review, IPA analysts review all data entries. During the face-to-face project interview, assigned analysts will collect any missing information and begin the next phase of the project evaluation.
Security is built into the fabric of IPA's products, infrastructure, and processes, so project teams can rest assured that all data stored in PDP is safeguarded. The portal is built on the Atlassian platform, with the Amazon Web Services (AWS) cloud as the hosting service provider.
Industry-leading owner companies have come to rely on IPA's PES products to improve the effectiveness of their capital projects. The release of PDP makes the data provision process easier for project teams than ever before.
————————————————–
[1] PES is a registered trademark of IPA.
[2] Versions for site benchmarkings and petroleum exploration and production (E&P) projects will be forthcoming.