Resource Center
TrueCost Helps Operators Quickly Find and Benchmark Oil & Gas Opportunities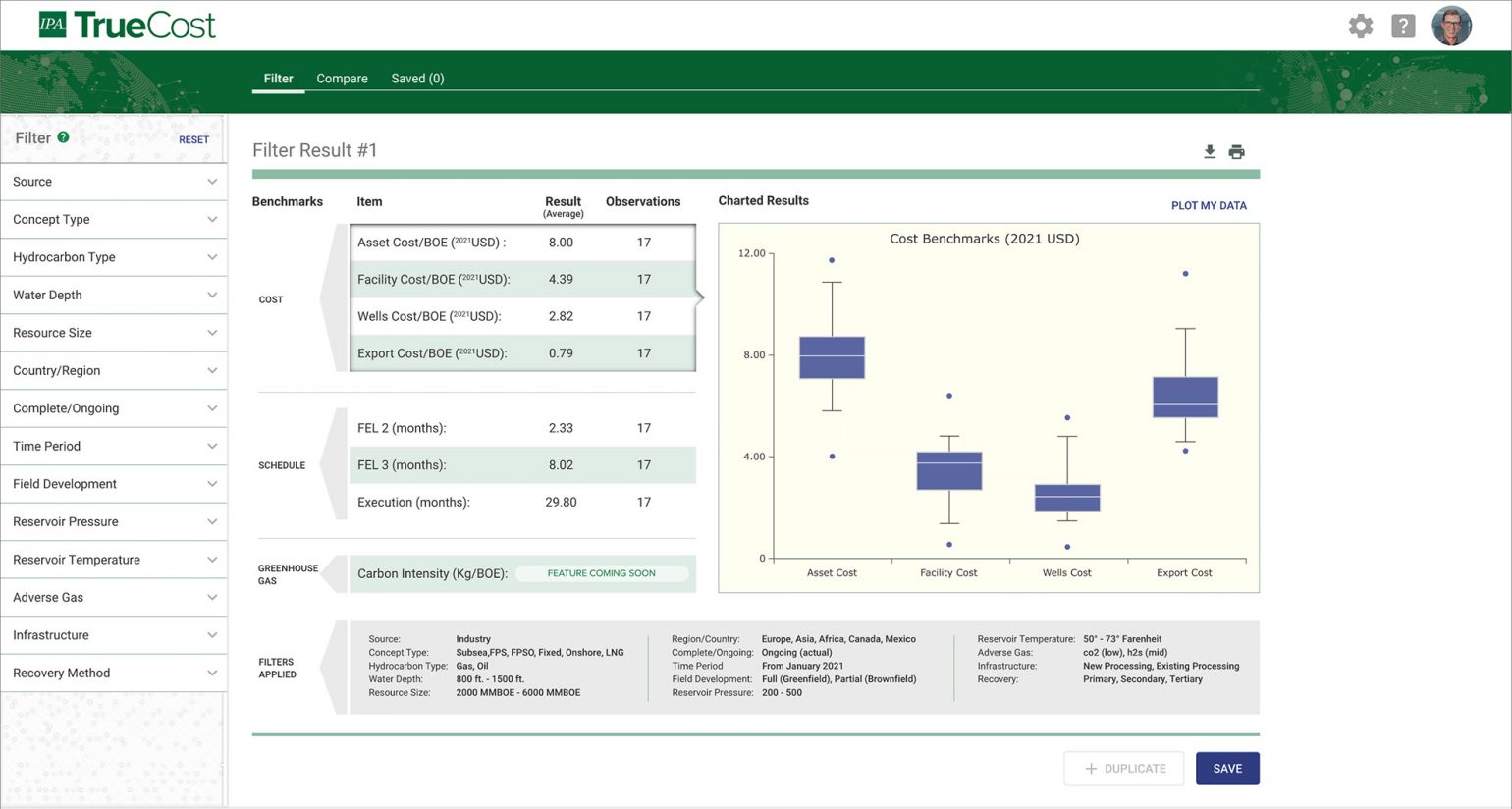 IPA Launches New TrueCost Opportunity Benchmarking Software Application Powered by Its One-of-a-Kind Capital Projects Database
Ashburn, VA (February 22, 2022)—Independent Project Analysis (IPA) Inc., the preeminent consultancy for capital project research and benchmarking, has launched TrueCost, a new software application to help oil & gas operators quickly assess the expected value, development cost, and duration of potential exploration and production (E&P) opportunities. Unlike other upstream data tools, TrueCost provides access to validated cost and schedule data for real projects in IPA's database, rather than unreliable publicly-sourced data.
With IPA's unmatched industry data at their fingertips, oil & gas operators can quickly and accurately:
Identify where the optimal opportunities are located
Understand how attractive an opportunity is based on its expected value, cost, and duration
Compare portfolio performance against the industry
"IPA's TrueCost software application is a comprehensive cost and schedule tool underpinned by real project data collected from the source, normalized by IPA, and designed for project professionals," said Jason Walker, IPA Deputy Director of Research. "TrueCost is sure to streamline decision making by providing accessible and reliable data when it matters most."
Real Data Directly From Project Teams
Many companies waste valuable time and resources collecting publicly-sourced data to use for evaluating potential exploration and production (E&P) opportunities. TrueCost eliminates this time‑consuming process by providing access to real cost and schedule data from 2,000+ real E&P projects in IPA's proprietary capital projects database.
All Data Carefully Validated and Normalized
Collecting public data is not just time-consuming, but the incomplete, non-normalized nature of these data sources makes them unreliable. All cost and schedule data contained in TrueCost are validated by IPA project analysts and carefully normalized by our team of economists to account for currencies and inflation.
Accurate Results in Real-Time
TrueCost is easy to use and generates accurate results in 30 seconds or less. After selecting up to 15 pre‑defined filters (e.g., concept type, region/country, hydrocarbon type, water depth, etc.), TrueCost displays cost and schedule metrics for real projects that meet the selected criteria, enabling direct, apples-to-apples comparisons between opportunities and/or portfolios.
Learn More
Contact IPA to request more info about TrueCost!
About IPA
Founded in 1987, IPA is the world's leading advisory firm on capital projects. We are a benchmarking, research, and consulting organization devoted to the empirical research of capital projects and project systems. We partner with capital intensive organizations to establish the right combination of people, work process, and governance to maximize cost, schedule, safety, operability, and sustainability performance. Our work is continuously validated by our clients who routinely compare our predictions with actual results and verify that our recommendations yield business value.