Getting Large Projects Back on Track in Mid-Execution
Business leaders increasingly want to know how to rescue projects that are going off track in mid-execution. Although businesses never plan for their projects to go off the rails, it is not an unusual occurrence in the capital project world. Large schedule deviations (e.g., above 25 percent) are the most common signal that a large capital project (i.e., above US$50 million) is going off the rails. Based on IPA's research, about one in four large projects go off track by slipping the schedule target. Large cost deviations (e.g., above 25 percent) are less common but do still occur from time to time. High cost growth tends to throw one out of eight large projects off-the-rails in execution.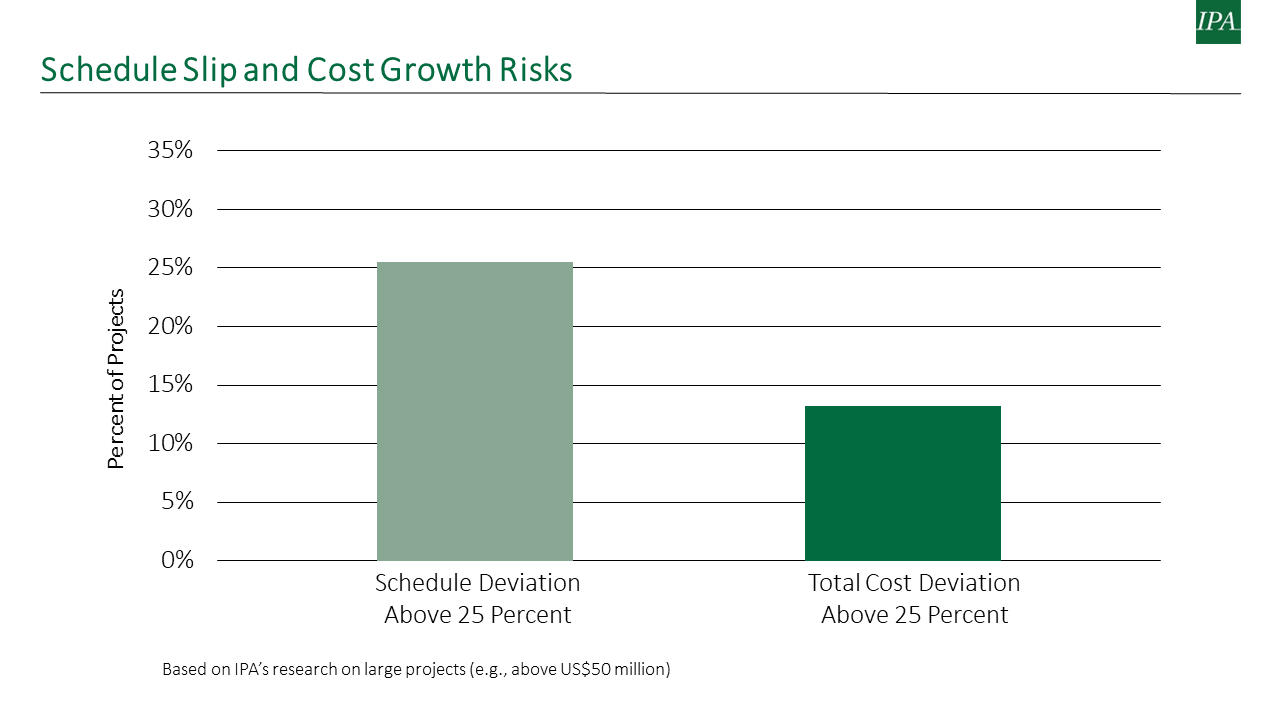 COVID-19 and its after effects have only magnified these risks as the pandemic disrupted already strained labor availability and material supply chains across all major industry sectors (e.g., refining, chemicals, midstream and distribution, mining/metals/minerals, pharma/consumer, civil-infrastructure, and IT/data centers). These unusual labor and material supply chain disruptions have led to a less predictable execution environment and increased the need for strategies to effectively rescue large projects that have gone off course during execution. Businesses and project teams affected by the pandemic's aftershocks are finding it increasingly more difficult to effectively estimate and control detailed engineering, procurement, and construction.
Why Do Projects Go Off the Rails?
Project execution can be unpredictable, and projects can have uncompetitive results even when business leaders follow Best Practices before authorization (e.g., enabling good team development, good definition, and good controls). Sources of execution disruption include:
Force Majeure: Unexpected events can stop businesses from executing projects effectively. For example, hurricane and flooding events often prevent labor and material suppliers from fulfilling their contractual obligations. Force majeure risk is not limited to acts of God (e.g., natural disasters and pandemics). Some force majeure events are created by humans, for example through war/military conflicts (such as the Russian invasion of Ukraine) and labor strikes. By their nature, force majeure events are impossible to predict and cause projects to deviate significantly from plans.
Team Member Turnover: Turnover of critical team members (business sponsor, owner project manager, lead engineer, or construction manager) is damaging to projects in mid-execution because key team members take with them a lot of institutional knowledge and political capital when they leave a project. Project teams require time to rebound, and thus spend more after a turnover because the turnover tends to trigger memory loss among key functions (i.e., informal agreements with operations and maintenance representatives tend to fall apart, and formal agreements with engineering and construction contractors often lose efficacy).
Late Major Changes: Major changes to project scope (e.g., adding capacity or functional options) and project design (e.g., modifying equipment layouts) generally require remobilization (or at least re-focusing) of engineering, procurement, and construction resources, which often adds more to the cost and schedule than expected, causing projects to go off the rails. After controlling for cost and schedule deviations, major changes to design and scope in execution are still associated with higher total spending and longer schedules compared to industry average.
How Can Projects Recover During Execution?
It can be very challenging to get a large project back on track once execution is underway. Although IPA normally conducts project evaluations to address execution risks before the funding authorization—which is the best time to ensure project success—business leaders also use IPA's services when they find themselves needing to rescue projects going off track in mid-execution.
A first step is to get an up-to-date picture of the project's current state, including what schedule slip and cost growth has occurred to date and whether the team has experienced key team member turnover or other disrupting events. Once this is done, the project's schedule and cost can be re-baselined, allowing owners and contractors to align on the new plan to completion and avoid further inefficiencies. Risk can and should be reassessed and mitigated and updated recommendations put into place.
For example, IPA helped refining and chemical industry leaders to recover their projects during and after COVID-19 lockdown by providing consulting solutions that quantified project engineering and procurement status, re‑baselined estimates, and measured potential effects on construction. In another instance, IPA helped a specialty chemicals company to recover a large project after the contractor filed for bankruptcy. IPA provided the owner team with tools to effectively re-baseline and re-staff the project, which enabled the project to complete the remaining execution work effectively.
Recovered projects may not be able to meet their original objectives—and will likely still have cost overruns and schedule slip. However, developing an updated and structured approach to project completion from the point of project crisis can help companies avoid outright disasters.
How IPA Can Help
IPA's project analysis and consulting services for Mid-Execution Recovery analysis cover multiple facets of execution risk:
Forensic project evaluation to identify the root causes of the current situation
Team Functionality survey to assess the team's perception across critical project elements including leadership, team communication and alignment, and project development
Benchmarking analysis to provide cost and schedule metrics: re-baselined should-be cost and schedule estimates
Projected cost and completion date (an estimate of the project's likely final outcomes) based on key risk factors
A set of actionable recommendations for the remainder of execution, based on the root cause analysis and Team Functionality results, that can be applied to the project to improve its chances for better outcomes
Although changing the trajectory of troubled projects is inherently more difficult in execution, it is not impossible. Across all major industry sectors, businesses have leveraged IPA's project database and consulting services to help their organizations recover projects that are already in execution. More importantly, by evaluating the root cause when projects go off track, business leaders gain knowledge necessary to avoid the same issues in the future.