Resource Center
IPA's Project Research Division Announces New Managerial Roles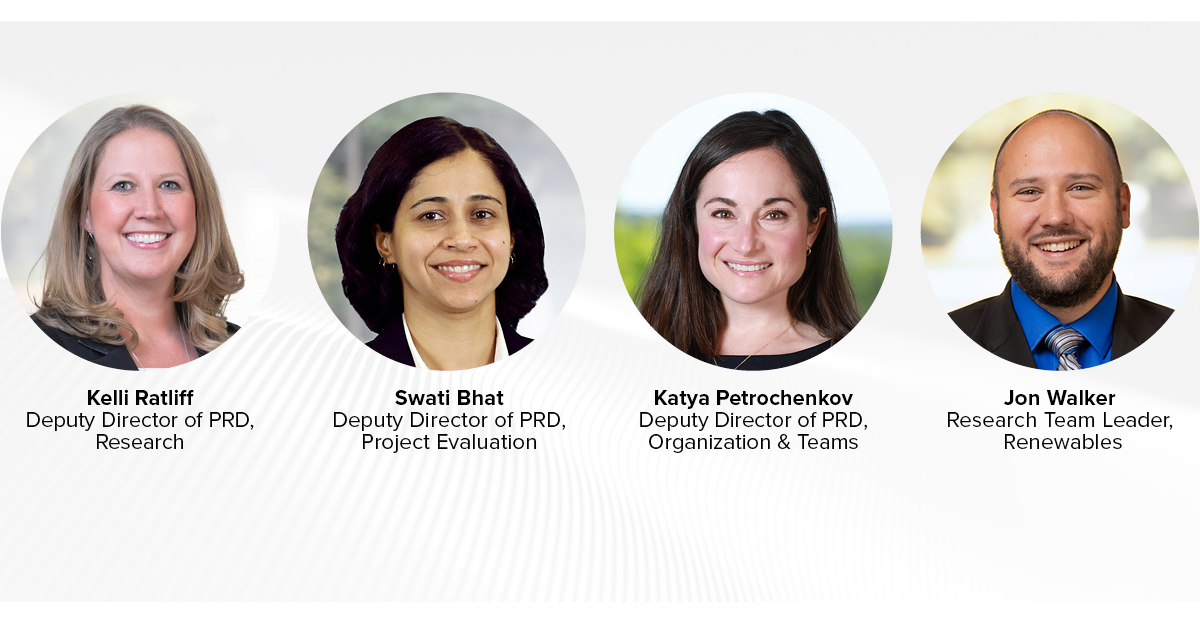 ASHBURN, VIRGINIA (April 1, 2022)—Independent Project Analysis (IPA) Inc., the preeminent consultancy for capital project evaluations and research, today announces that four employees will take on new leadership roles in its Project Research Division (PRD).
Kelli Ratliff will assume the role of Deputy Director for Research. In her new position, Ratliff will oversee IPA's global research portfolio. She started at IPA in 2002 as a research analyst, conducting multiple capital project research studies in the areas of onshore and offshore megaprojects, joint ventures, executing projects in frontier regions, and contracting strategies. Ratliff later moved to the IPA Institute, leading efforts to improve the effectiveness of IPA's training program. After serving as a manager in IPA's Quality group, she became Deputy Director for the Consortia Membership and the IPA Institute. Ratliff received her BS degree from the Integrated Science and Technology Program at James Madison University in Virginia.
Swati Bhat is promoted to Deputy Director for Project Evaluation System (PES®). She and her team of research analysts will be responsible for all infrastructure, model development, and product development in IPA's PES line in all industrial sectors. Since joining IPA in 2003, Bhat has served as research team leader for the downstream sector and has been a model steward for several industry sectors. In addition, Bhat has led or supported several research studies. She is a certified PMP and received her MS in Statistics from the University of Massachusetts, Amherst, and her BS in Statistics from the University of Mumbai.
Katya Petrochenkov is promoted to Deputy Director for Organizations and Teams (O&T). Based in IPA's Reading, UK, office, she will lead a program of research and advisory services focusing on helping people, teams, and project organizations perform at their best. Petrochenkov joined IPA in 2010 and has been a member of the O&T group at IPA ever since. During her time at IPA, she has worked on a full range of O&T research assignments for projects and systems ranging from small to very large. She developed IPA's intellectual property in the area of Best Practices for non-operating partners in large projects. Petrochenkov received her MA in Organizational Behavior from the Claremont Graduate University in California and a BA in psychology and Russian language from Georgetown University in Washington, D.C.
Jon Walker will take on the role of Research Team Leader for Renewables. Walker and his team will be responsible for research, infrastructure and model development, and product development in offshore wind, onshore wind, and photovoltaics. Since joining IPA in 2010, Walker has performed extensive research in the oil and gas processing industry and led the Upstream Cost Engineering Committee (UCEC) conference. In addition, he has led the Exploration and Production (E&P) research group for the last 6 years. Walker has degrees in physics and civil engineering from Longwood University and Old Dominion University, both in Virginia, respectively.
About the Project Research Division
IPA's PRD examines the functioning of capital projects and project systems, identifies industry trends from our stream of project data, and provides clients with practical insights and actionable recommendations to strengthen capital project business decision making, governance, and project development work processes. IPA's extensive database containing detailed data on more than 21,000 projects serves as the foundation for quantitative and replicable results linking practices to project outcomes so that systematic improvement is possible.
About IPA
Founded in 1987, IPA is a benchmarking, research, and consulting organization devoted to the empirical research of capital projects and project systems. IPA improves the competitiveness of our clients through more effective use of capital in their businesses. It is our mission and unique competence to conduct research into the functioning of capital projects and project systems and to apply the results of that research to help our clients create and use capital assets more efficiently.