Services
Capital Project System Evaluation
Upgrade your project delivery system
Capital project organizations are under constant pressure to use capital more effectively. From complete system health checks to drill-downs focused on the key system elements—work processes, organizational design, governance and performance management—our exclusive vantage point enables us to measure your project system against the top performers and generate insights to drive improvements in performance. IPA's Project System Excellence Model (PSEM™) provides a holistic view of the elements that enable project system delivery of consistent, predictable, and competitive results.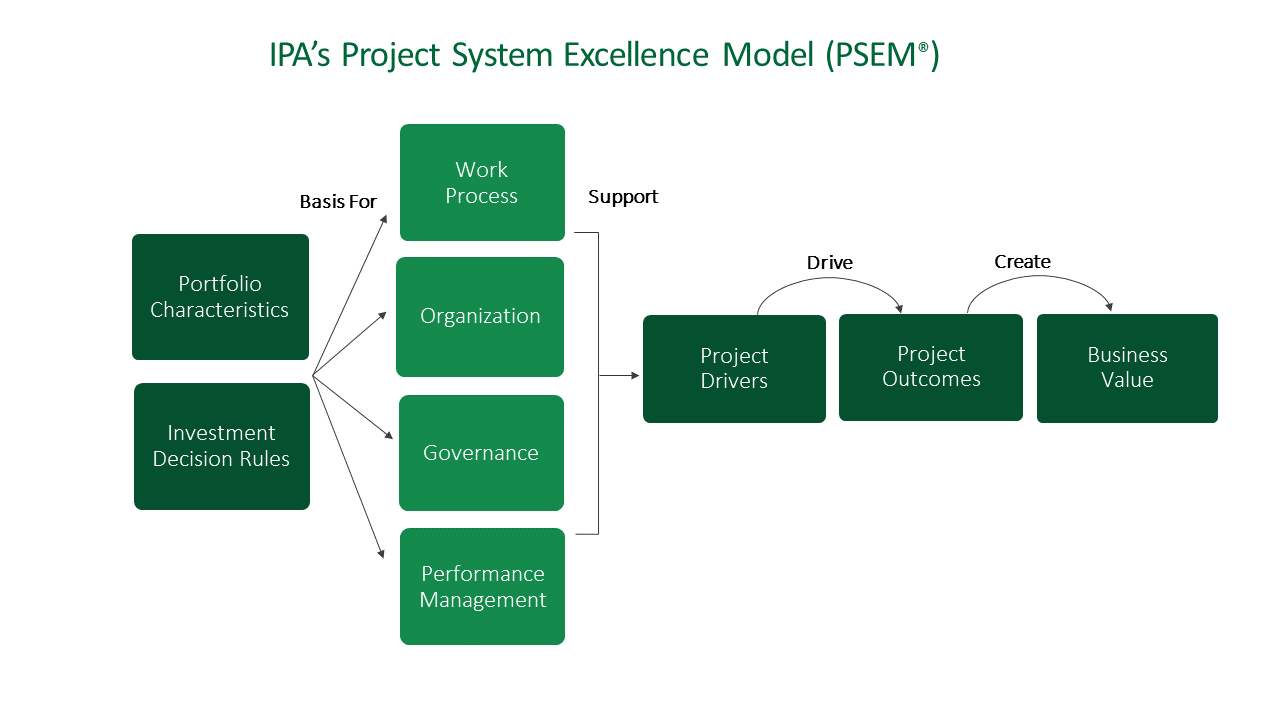 Capital Project System Evaluation
Diagnose Your Project System
IPA's Capital Project System Evaluation is a comprehensive forensic analysis that measures your project cost, schedule, and functionality outcomes—and the practices that drive these outcomes—against industry and top performing systems data. The evaluation examines the project work process, organization, and investment decision-making requirements to understand how the system promotes or prevents best performance. Owner companies gain a true understanding of their competitive position, receive clear recommendations for improvement, and obtain a collaborative implementation plan to drive the necessary changes to enhance business value for the company capital spend.
Project Implementation Work Process Review
Diagnose and Optimize Your Project Work Processes
Are your capital project work processes strong enough to drive successful outcomes? IPA provides an objective assessment of your procedures to develop, fund, and execute projects based on a current and comprehensive view of how the best project systems perform globally across a wide range of project business and technical drivers. We consider the fit of your processes with the businesses you serve, the technologies you employ, and the business/technical outcomes required to make your projects successful. Processes that are too onerous or do not fit with the company's organizational structure—even if they reflect industry Best Practices—are not likely to be implemented effectively. IPA's approach to assessing processes, and overall systems, is to evaluate not only the documented procedures, but also how those procedures are being used in practice and whether those procedures are driving desired performance. And, our recommendations are tailored for each company's requirements and constraints. Project system evaluations and work process reviews help you create a fit-for-purpose project system that delivers the best possible results for your company.
Let's get started
Talk with an expert about your project and how our data can drive your next success.