Are Mining Companies Ready for the Next Investment Upcycle?
A decade of underinvestment in mineral projects and the changes associated with the green economy is setting the mining industry up for a period of growth that may last for decades. How can companies prepare for this next mining investment upcycle?
The Coming Mining Investment Upcycle
Almost a decade of low mineral prices led to the stagnation of mining industry capital spending. However, when COVID-19 pandemic lockdowns started in 2020, we saw a surge in mineral prices driven by anticipated and actual supply shortages. The spike in prices eased as production resumed; however, prices remained higher than in the recent past, supported by government stimulus packages on infrastructure spending as part of economic recovery plans following the pandemic.
During the same period, we saw an increased global focus on decarbonization initiatives, which started driving demand for commodities consumed by electrification and battery technology, including copper, nickel, cobalt, lithium, and rare-earths, among others. This increase, coupled with the mining industry's own decarbonization plans, started to put more pressure on mining company project systems.
According to the International Energy Agency (IEA), green energy technologies require a substantial amount of mined minerals and metals. Whether for manufacturing electric vehicles batteries, onshore wind plants, or solar photovoltaic systems, clean energy technologies depend on the minerals sector as a key enabler of the effort to reach net-zero global emissions by 2050, which means that intensive mineral project activity are likely to continue for decades to come.
The Ups and Downs of Mining Investment Cycles
As with most heavy industry sectors, mining capital projects tend to follow investment upcycles and downcycles, usually in line with the growth of commodities prices, which are commonly driven by increased demand, but also related to supply shortages, logistical bottlenecks, and other geopolitical situations.
As shown in Figure 1, the most recent minerals upcycle started around 2003, driven by the rapid growth in the industrialization of China and other emerging markets. The upswing in mineral prices led to an increase in mining company investments to expand production capacity and develop new mineral deposits, which typically require very large capital projects. However, once the global demand for materials declined around 2011, a drop in mineral prices led to a downcycle and large mineral projects were rarely authorized.
To provide some context, a new mine expansion project will take about 5 years from opportunity identification to production start and a greenfield mine may take 10 to 20 years from the resource discovery to the delivery of the full production asset. Hence, even with the upcycle end, the mining industry projects portfolio remained active for several years after as the industry completed those large (frequently schedule-driven) projects that were authorized during the upcycle. Further, because the projects were concluded during the down cycle, they were only able to sell their products at lower prices, meaning many of those companies are still working to recover their investments. (See Figure 2.)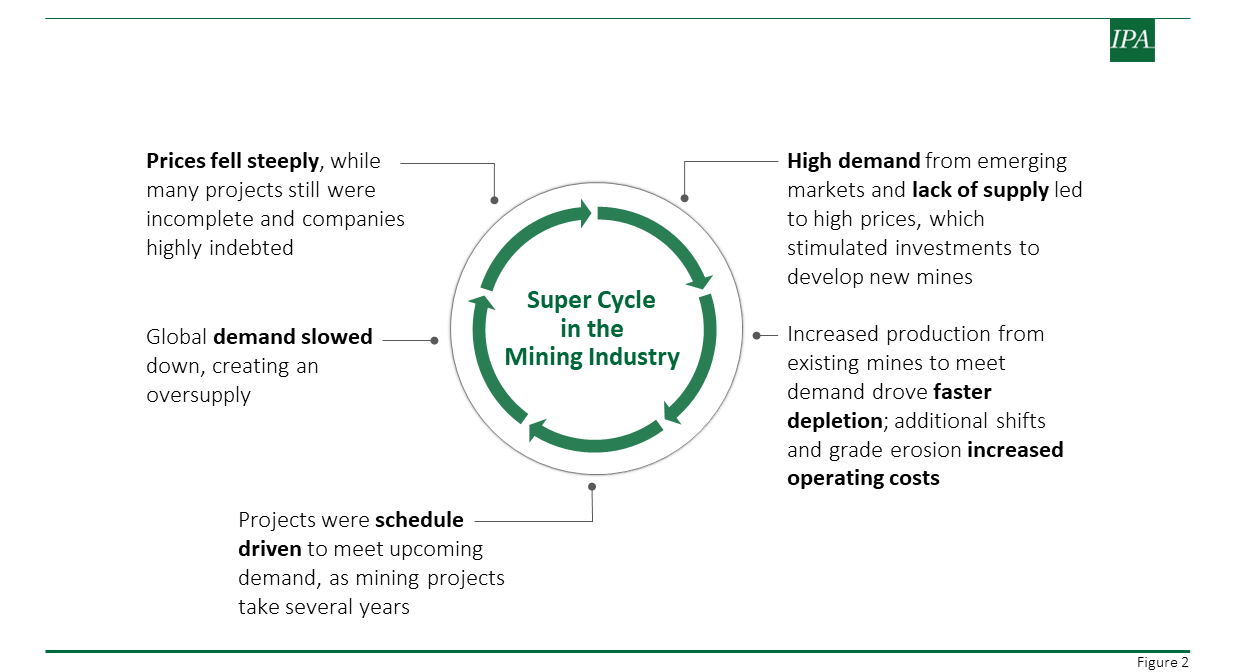 Are Mining Companies Ready to Meet the Next Upcycle?
The mining industry has been particularly dynamic in the past few years, focusing on mergers and acquisitions, internal restructure and reorganizations, and managing the resources lost during the pandemic. Compared to other industry sectors that IPA works with, mining companies have notably weaker capital projects systems. Most mining companies are low on owner staff and are mostly decentralized, precluding a disciplined approach to capital project planning and governance.
This finding is concerning because strong project systems are particularly important for the mining industry, given that its projects typically have large capital investments, large development footprints, and great effects on local physical and economic environments, which drive high complexity project shaping. The complex shaping aspects frequently relate to permitting, stakeholder management, and infrastructure requirements. Weaker project systems are less able to manage project complexity, often delivering worse project outcomes. As shown in Figure 3, IPA research found that mineral projects have larger cost growth and schedule slip and worse production than other industry sectors.
Considering their weaker capital management systems, the question is: Are the mining companies in a position to manage the large-scale investments needed for asset developments to meet the future demand?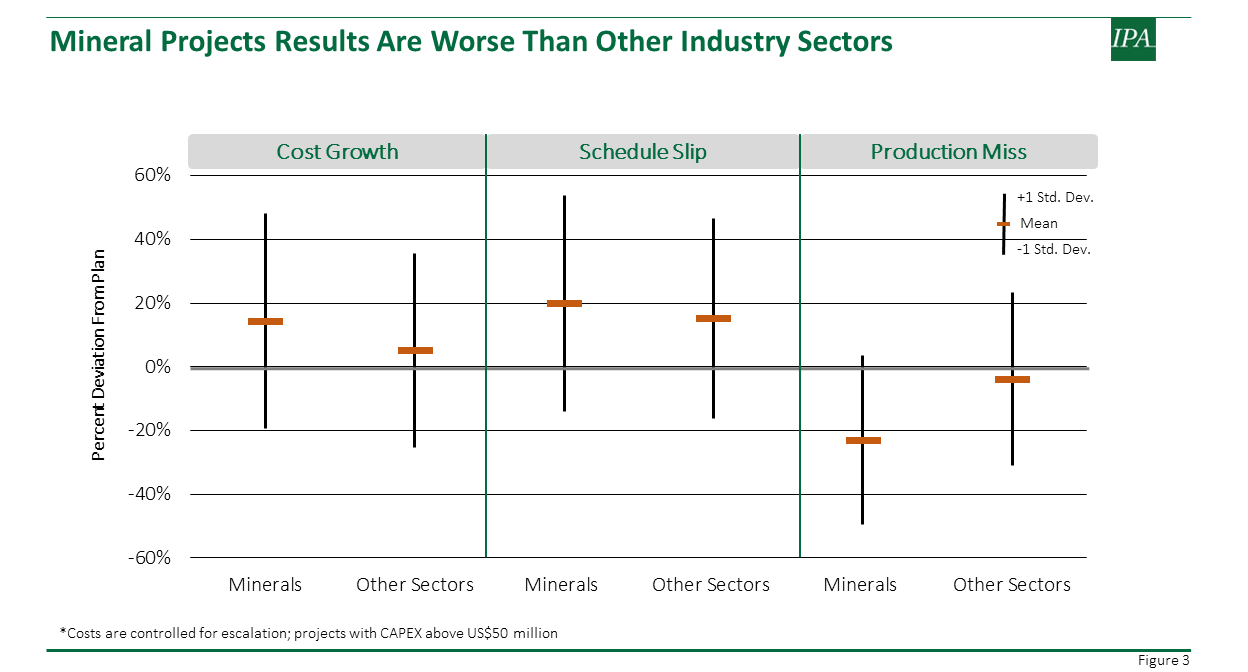 Building a Strong Project System
As the industry sees growth in capital projects on the horizon, mining companies start to worry about the health of their own projects organization and their capability to deliver their much-expanded capital portfolios. In the past few months, IPA has noticed a significant increase in requests for mining company services, related to project risk assessments and project system improvements. These companies are seeking assistance to identify gaps in their project development process and to strengthen their project organizations and governance processes, as they see their portfolios growing to levels that they have not seen in many years.
IPA has been able to assist mining companies in mapping critical risks and developing action plans for their projects and systems. During these engagements, we discovered that several companies are already managing portfolios above and beyond their capabilities, so strengthening their project systems becomes even more important. Building a strong project system is critical to sustain good project performance and a healthy portfolio that brings positive returns to shareholders. It is important to note that, due to the long cycle time of a capital project, it may take years for a new project system to deliver the benefits of an improvement exercise. Reorganizing and restructuring a projects organization requires commitment to improvement from business executives and project system leaders.
Establishing a strong project system requires development through the following aspects:
Implementing the appropriate project management process and practices
Adequately staffing project management and technical functions
Training project teams on the right way to plan and execute projects
Educating company executives on how to make the right project decisions
In addition to implementing the above, a strong project system requires the exercise of these practices and refinement and adjustment of the practices to align with the company's culture and portfolio characteristics. Strong project organizations will manage their institutional knowledge in a way that the learnings are documented and shared across their project professionals. A projects organization is built on strong processes and personnel. Work processes can be developed quickly, but they take time to implement, test, and adjust to the needs of the organization. Personnel development takes several projects worth of experience. As many mining companies have lost their capabilities over the downcycle period, getting back on track and being ready to deliver these new projects should start now.
How IPA Can Help
IPA has a variety of products and services to help our clients develop robust project systems and projects for consistent capital performance. The products and service that can benefit the mining industry include:
IPA's database covers a wide range of mining and minerals projects from around the globe, with detailed information in terms project types, scopes, and commodity types, which enables us to developed models to benchmark most scopes of a mining project, including mine development, process facilities, and infrastructures in scope. Hence, IPA is well positioned to support to our clients to get ready for the next upcycle.